These are a few of the great events happening in Fort Wayne in June. For a complete list of events, browse the Visit Fort Wayne Calendar of Events. 
Arab Fest
June 4 - 5 / Headwaters Park Pavilions
Take part in a two-day celebration of Arab culture! Try a delicious falafel, relax with the rich sounds of Arab music, enjoy camel rides, and browse the Souk – a marketplace filled with art, leather goods, candles, tea, and more.
June 7 - 12, 21 - 26 / Parkview Field
Grab your tickets and come cheer on the TinCaps this month. Experience the excitement first-hand at one of the best Minor League Baseball stadiums in the country!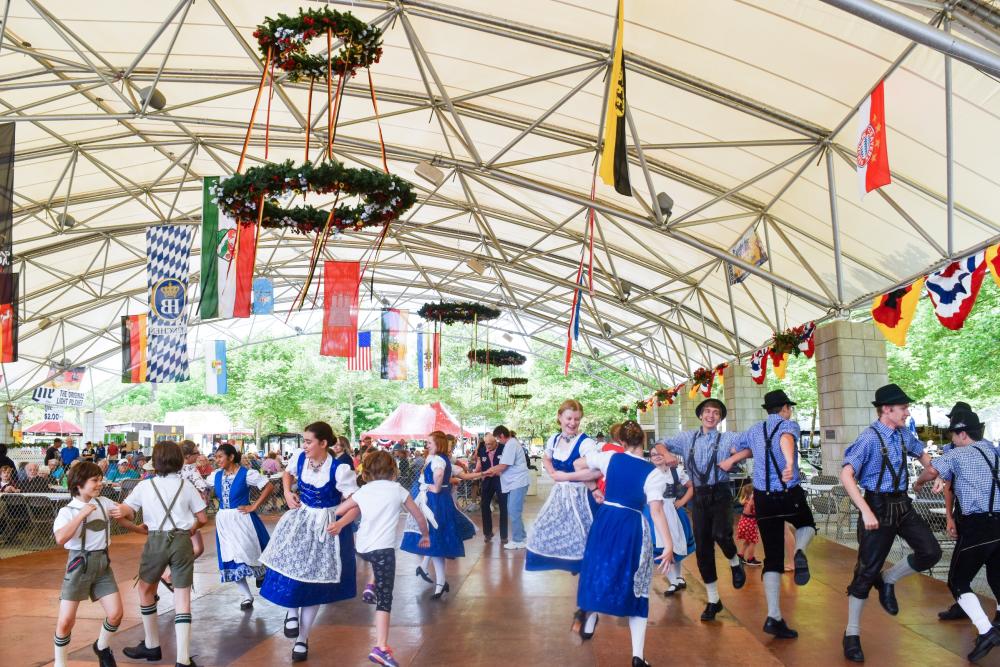 Germanfest
June 8 - 12 / Headwaters Park
Come eat, drink, and dance together during a week-long celebration of German heritage! Don't miss Familienfest on Saturday, June 11 with homecooked food, beer, and activities.
Touring Concerts
Find a concert for every taste this June! Experience amazing tunes at one of these touring shows.
Davy Knowles - Baker Street Centre / June 3
The Four Horsemen: The Ultimate Metallica Tribute - Clyde Theatre / June 4
Air Supply - Foellinger Theatre / June 11
Kenny Wayne Shepherd Band - Sweetwater Performance Pavilion / June 11
Lee Brice "Label Me Proud Tour" with Michael Ray and Tim Montana - Memorial Coliseum / June 17
10,000 Maniacs Featuring Mary Ramsey - 40th Anniversary Tour - Clyde Theatre / June 19
Pat Benatar & Neil Giraldo - Sweetwater Performance Pavilion / June 19
Jackson Browne - Foellinger Theatre / June 21
Hotel California: A Salute to the Eagles - Foellinger Theatre / June 24

Summer Concert Series
Bring your blankets and lawn chairs or dance the night away with some of the best bands in Fort Wayne!
Music on the Plaza / June 8 / Allen County Public Library
Downtown Live / Friday Nights / The Landing
Rock the Plaza / Saturdays / Allen County Public Library
Summer Nights at the Embassy / Wednesdays / Embassy Theatre
Emergence—Live Butterfly Exhibit
Through June 26 / Botanical Conservatory
Step inside the exhibit tent for an up-close look at live butterflies. Learn how local plants help caterpillars grow into incredible winged creatures!
Fort Wayne Air Show
June 4 - 5 / Fort Wayne 122nd Air National Guard Base
The Fort Wayne Air Show takes off with two days of non-stop, high-flying action! This free festival features the US Air Force Thunderbirds, world-class parachuters and air performers, ground entertainment, and more.
Fort Wayne Quilt Fest 2022
June 10 - 11 / Grand Wayne Convention Center
The Fort Wayne Quilt Fest is a yearly quilt show, presented by the Appleseed Quilters' Guild in the heart of downtown Fort Wayne. This "Festival of Quilts" features vendors, special exhibits, a boutique gift shop, and hundreds of quilts on display - including challenge quilts and specialty quilts!
June 11, 14, 18 / Bishop Dwenger's Shields Field
Cheer on the Fort Wayne FC on their home field as they take on the Indiana Lions and FC Grand Rapids. Enjoy concessions during the game!
June 11 - 12 / The Old Fort
Experience living history as The Old Fort recreates the events of the historic Siege of Fort Wayne during the War of 1812. The weekend features battle reenactments, period artisans, demonstrations, and hands-on children's activities!
Fort Wayne Children's Zoo: Zoofari
June 16 / Fort Wayne Children's Zoo
SYM Financial Advisors presents Zoofari: Brews, Bites, & Beasts, a WILD fundraising event that offers guests aged 21+ the chance to sample delicious bites and beverages from over 50 local and regional establishments all while enjoying live music and connecting with our amazing animals. Proceeds from this event support daily operations, education programs, and providing exceptional care for over 1,400 animals.
Theater Performances
Catch a show performing at these prestigious Fort Wayne venues.
Bright Star - Arena Dinner Theatre / June 10 - 25
Blood & Sand with Organist Dennis James - Embassy Theatre / June 12
Grandmas Boy with Organist Clark Wilson - Embassy Theatre / June 26
BBQ Ribfest
June 16 - 19 / Headwaters Park
Mark your calendars for BBQ Ribfest! Whether you prefer hot and spicy or sweet and tangy, your taste buds are in for a delicious time. Come enjoy four days of brews, live music, and of course finger lickin' good barbecue!
Dino & Dragon Stroll
June 18 - 19 / Memorial Coliseum
Dino & Dragon Stroll will transform the Memorial Coliseum into the Mesozoic Era with prehistoric dinosaurs and fantastical dragons throughout! Creatures featuring moving heads, necks, tails, wings, and other amazing details that make them look real and alive! Guests can walk through this realistic and memorable indoor experience and get up close and personal with large, serpentine, winged, horned and legendary fire breathing dragons, just as you imagined them.

Middle Waves Music Festival
June 17 - 18 / Foellinger Theatre
Presented by Sweetwater Sound, Middle Waves is a two-day destination music festival featuring an eclectic mix of 20+ performers, including Young the Giant, Big Boi, Rosie, and more, on two paid stages and one free stage. With music, interactive art installations, experience events, food trucks, beverages, and fun around every corner, people of all ages, backgrounds, and music preferences will have the time of their lives!
June 22 - September 31 / Fort Wayne Museum of Art and Fort Wayne History Center
Come to this two-part exhibition in honor of Bill Blass' 100th birthday. The Fort Wayne History Center is celebrating the Fort Wayne fashion icon through his work with the WWII Ghost Army. The exhibit at the Fort Wayne Museum of Art will focus on his impressive 50-year career in the fashion industry.
Greekfest
June 23 - 26 / Headwaters Park Pavilions
Enjoy a taste of Greek culture during this annual celebration at Headwaters Park. Experience four days of Greek cuisine, music, dancing, and more!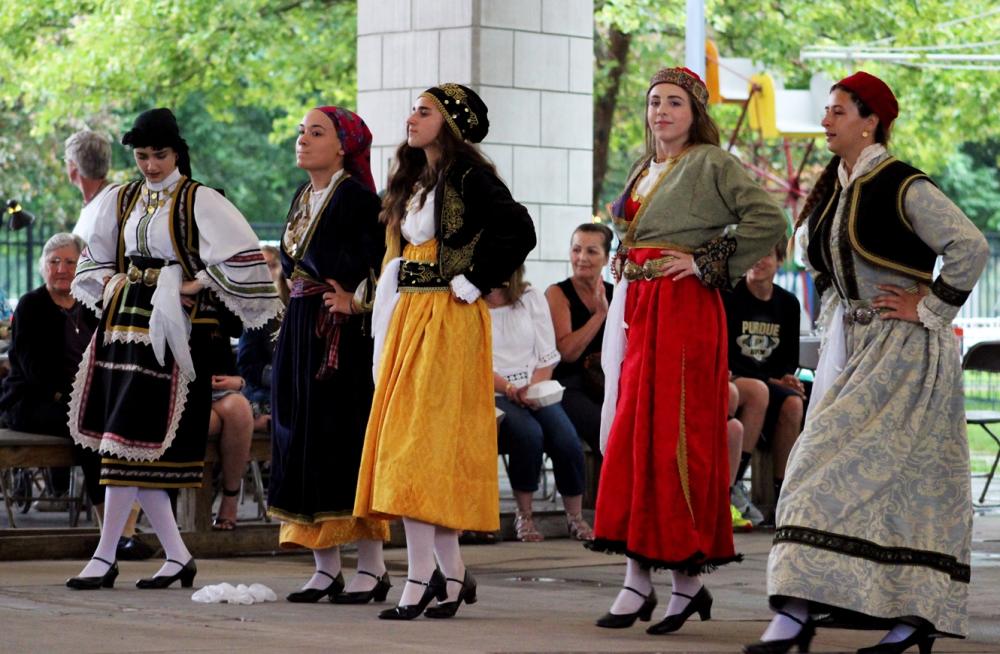 Covington Art Fair
June 25 - 26 / Covington Plaza
Browse and purchase pieces of fine art at the annual Covington Art Fair, a high-quality, juried art show! As you explore the art, enjoy live jazz music and fine dining.
Lunch on the Square
Thursdays through August 25 / Freimann Square
Every Thursday this summer, grab a bite from your favorite Fort Wayne food trucks and enjoy a relaxing lunch in the park! Music, activities, and food truck fare are available 11:30AM – 1:30PM.
Outdoor Farmers Markets
Saturdays through September 24
Stock up on locally sourced, fresh produce, and unique handmade goods at year-round farmers markets in Fort Wayne. Find the YLNI Farmers Market outdoors on Barr Street and Ft. Wayne's Farmers Market outdoors at McCullock Park through September 24.
Trek the Trails
Tuesdays and Thursdays through October 27 / Fort Wayne Trails
Bring your helmet and water bottle and join the cities of Fort Wayne and New Haven for a family bike ride every Tuesday and Thursday at 6PM throughout the summer. Most rides are 8-9 miles long with average speed of 10-12 mph to keep a leisurely pace for the whole family. Also check out Tread the Trails every other Thursday for a 5K walk.
Miami Indian Heritage Days
First Saturday of every month through November 5 / Chief Richardville House
The History Center presents Miami Indian Heritage Days set in the oldest Native American structure in the Midwest. Each month focuses on a different period activity such as cookware from local clays, Miami beadwork, games, harvest, and more.