These are a few of the great events happening in Fort Wayne in June. For a complete list of events, browse the Visit Fort Wayne Calendar of Events. 
Friday Nites Live
Fridays starting June 1 / Jefferson Pointe
Every Friday night this summer, enjoy free outdoor music and entertainment from 6:30PM to 8:30PM! Bring a lawn chair or a blanket and join the fun at the Jefferson Pointe fountain.
Arab Fest
June 2 – 3 / Headwaters Park
Take part in a two-day celebration of Arab culture! Try a delicious falafel, relax with the rich sounds of Arab music, enjoy camel rides, and browse the Souk – a marketplace filled with art, leather goods, candles, tea, and more.
Wonderland: Photographs by Kristy Mitchell
Opens June 2 / Fort Wayne Museum of Art
In her pieces, Kristy Mitchell uses elaborate props, costumes, hair, and makeup to portray intense emotions and an escape from reality. This exhibit features large-scale, fantastical photographs accompanied by videos documenting the artist's creative process.
Germanfest
June 3 – 10 / Headwaters Park
Come eat, drink, and dance together during a week-long celebration of German heritage! Don't miss the traditional festival tent opening at 11am on June 6 – complete with homemade sauerkraut.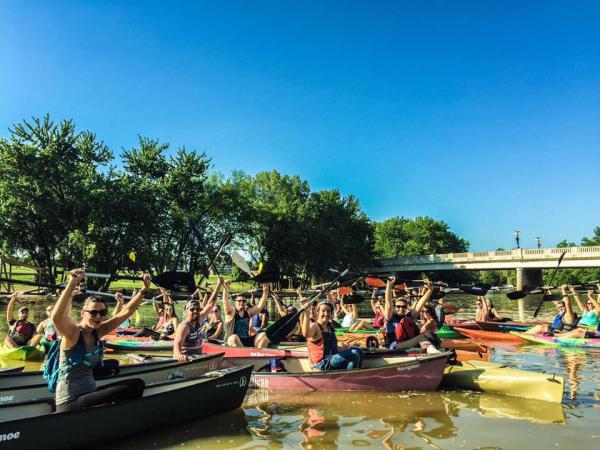 Riverfront Tours and Activities
Experience Fort Wayne's historic waterways with amazing activities from Riverfront Fort Wayne!
Riverfront Boat Tours
Riverfront Walking Tours
Storytime on the Riverfront
Riverfront Citizen Science: Birdwatching on Our Urban Rivers
Wednesday Paddle Socials
Friday Paddle Socials
Sunday Paddle Socials
New Haven Canal Days
June 5 – 9 / Schnelker Park
This annual festival celebrates the Hoosier spirit with a weekend of family-friendly fun! Enjoy the festivities in New Haven, just a short drive from downtown Fort Wayne.
Hobnobben Film Festival
June 7 – 10 / Cinema Center
Film lovers, filmmakers, and casual film consumers are all welcome at Hobnobben, presented by Cinema Center. Don't miss the area's largest celebration of film!
June 8 – 11, 15 – 17, 21 – 27 / Parkview Field
Grab your tickets and come cheer on the TinCaps this month. Experience the excitement first-hand at one of the best Minor League Baseball stadiums in the country!
A Little Night Music
June 8, 9, 15, 16, 22, 23 / Arena Dinner Theatre
Set in 1900 Sweden, A Little Night Music explores the tangled web of affairs centered around one actress and the men who love her. Experience the musical that entrances audiences with hilariously witty and heartbreakingly moving moments.
Pedal, Paddle, and Play
June 9 / Guldlin Park
Get out on Fort Wayne's water and land trails to see our city from a new perspective! Win prizes, enjoy local food trucks, and hang out with friends. Then, stick around for the after party hosted by Hop River Brewing Co.
Summer Farmers Markets
Stroll through Fort Wayne's outdoor farmers markets and stock up on local produce, handmade items, and natural goods!
Ft. Wayne's Farmers Market
YLNI Farmers Market
Historic Southside Farmers Market
Historic West Main Street Farmers Market
Solomon Farm Park Farmers Market
Rock the Plaza
Wednesdays starting June 9 / Allen County Public Library Plaza
Every Saturday night this summer, great local bands will rock the plaza. Bring your lawn chairs and blankets, or get up and dance! Admission is free with food for purchase.

In the Dark
Opens June 9 / Science Central
Don't be afraid of the dark! In this exciting new exhibit at Science Central, explore different environments of darkness, and enjoy unique hands-on activities.
Celtic Woman
June 10 / Embassy Theatre
Celebrating Ireland's rich heritage, Celtic Woman combines some of Ireland's most talented singers and musicians with incredible stage productions. Enjoy a unique, inspiring live experience with this Grammy-winning group!
Summer Nights at the Embassy
Wednesdays through August 29 / Embassy Theatre
Head to the Embassy Theatre every Wednesday for live music, dancing, food, and drinks! Plus, enjoy awe-inspiring views of the city from the rooftop. Tickets are just $5!
BBQ Ribfest
June 14 – 17 / Headwaters Park
Mark your calendars for BBQ Ribfest! Whether you prefer hot and spicy or sweet and tangy, your taste buds are in for a delicious time. Come enjoy four days of brews, live music, and of course finger lickin' good barbecue!
Foellinger Concert Series
Catch great performances all month long at the Foellinger Outdoor Theatre! Nothing says summer like an amazing outdoor concert.
Dogs of Society, Elton John Tribute / June 16
Little River Band / June 22
Willie Nelson / June 27
Let's Hang On / June 30
Greekfest
June 21 – 24 / Headwaters Park
Enjoy a taste of Greek culture during this annual celebration at Headwaters Park. Experience four days of Greek cuisine, music, dancing, and more!

GearFest
June 22 – 23 / Sweetwater
Calling all music lovers! Check out a weekend of deals, workshops, performances, and giveaways at Sweetwater. Both days are free and open to the public!
Dragon Boat Races
June 23 / Headwaters Park West
Riverfront Fort Wayne and Fort Wayne Parks and Recreation present a day of fun for the whole family. Live music, entertainment, a Kids Play Area, and food trucks surround the St. Marys River as teams compete in the exhilarating boat race.
Agen Family Trio
June 24 / Arts United Center
Fort Wayne's Addison Agen – Season 13 Runner-Up on NBC's The Voice – performs in concert with her mom and brother, together forming the Agen Family Trio! Catch their benefit concert, featuring many of the trio's favorite songs, plus some of Addison's original music. Proceeds support Audiences Unlimited, a local organization serving the community through music.
YLNI Living Fort Wayne Concert Series
June 27 / Headwaters Park West
Come downtown and hang out by the river for an evening of great entertainment! The live concert series features local artists, food trucks, bars, and more. Don't miss out on this free event that promises to be a night of fun for all ages.
BuskerFest
June 30 / Corner of Wayne and Calhoun Streets
Enjoy an exciting celebration of the street performer! BuskerFest is a family-friendly festival featuring quirky and unexpected live art. Discover living statues, chalk artists, aerialists, fire dancers, jugglers, mimes and more. Free admission!
Watch More...