Discover a few of the amazing festivities and holiday events happening in Fort Wayne in December. For a complete list of events, browse the Visit Fort Wayne Calendar of Events.
January 3, 6, 20, 21 / Memorial Coliseum
Join the jungle and cheer on the Fort Wayne Komets this month! Grab your tickets and head to the Memorial Coliseum for winter sports action.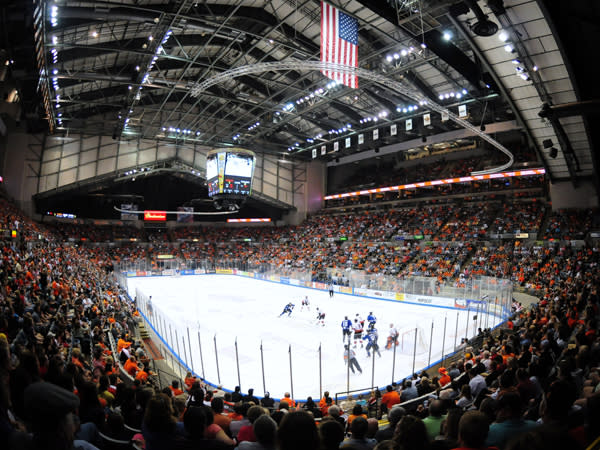 Winter Bridal Spectacular
January 6-7 / Memorial Coliseum
Calling all brides! Spend your weekend at the Winter Bridal Spectacular and find everything you need to plan your dream wedding. Pre-register today and let the planning begin!
January 5, 7, 19 / Memorial Coliseum
During January, bring your family and friends to catch the Fort Wayne Mad Ants in action! Kids and adults will enjoy this affordable, fun basketball experience.

Savor Fort Wayne
January 10-21 / Participating Fort Wayne Restaurants
Savor Fort Wayne returns in 2018 with 12 delicious days of menu deals! Discover special three-course deals no more than $30 per person at 47 participating restaurants. Share your experience on social media using #SavorFW.
Brian Posehn Live
January 11 / Calhoun Street Soups, Salads and Spirits (CS3)
Comedian/actor/writer Brian Posehn is heading to Fort Wayne for two shows on January 11! Brian co-starred in The Five Year Engagement, starred in The Sarah Silverman Program for three years, and was a co-writer for Marvel's Deadpool.
January 13, 21, 24, 27, 28 / Various Locations
Join the Fort Wayne Philharmonic for a month full of delightful performances. Discover classical musical for your next night out, or bring the kids to an exciting show featuring songs they know and love!
We are the Dream: The Legacy of MLK
January 14 / Plymouth Congregational Church of Fort Wayne
Gather together to pay homage to the legacy of Dr. Martin Luther King, Jr. Heartland Sings presents a dramatic musical program, uniting MLK's inspiring words with the music of the civil rights movement.
Broadway at the Embassy: The Sound of Music
January 17 / Embassy Theatre
This month, the hills come alive at the Embassy Theatre! You won't want to miss this brand-new Broadway production of The Sound of Music live in Fort Wayne.
Theatre Performances
Head to the theatre throughout January and discover shows for all ages and interests!
Arena Dinner Theatre: A Life in the Theatre
First Presbyterian Theater: RED
Shakespearemachine: Faustus
Shopkins Live! at the Embassy Theatre

Headwaters Park Ice Skating
Through February 28 / Headwaters Park
Glide and twirl into 2018 with outdoor ice skating at Headwaters Park! Grab your skates and hit the ice all winter long. Plus, kids under 14 skate free on Wednesdays!
Fort Wayne Farm Show
January 16-18 / Memorial Coliseum
Don't miss one of the largest and most respected farm shows in the nation! Discover the latest farming technology and explore a variety of farm machinery equipment.
The State Ballet Theatre of Russia presents: Sleeping Beauty
January 18 / Embassy Theatre
This story of a princess cursed to sleep for 100 years is considered one of Tchaikovsky's greatest works! 50 of Russia's greatest ballet stars bring this romantic tale of true love to life.
Fort Wayne's Farmers Market – Indoor Market
Every Saturday / Parkview Field
On Saturday mornings, discover fresh produce and handmade goods at the indoor market at Parkview Field! From meats and jams to natural bath products, this market has it all.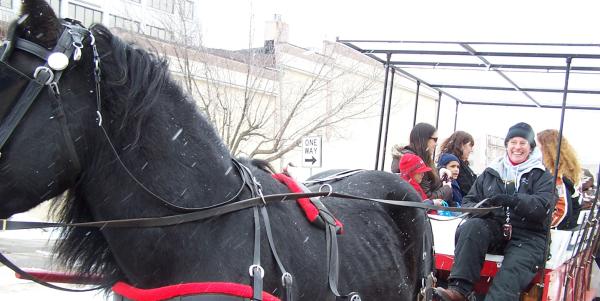 Winterval and Winter Cozy
January 27 / Downtown Fort Wayne
Celebrate winter downtown with a day of family-friendly indoor and outdoor activities! Watch ice carvers create wonders from a solid block of ice, enjoy a carriage ride, or catch a demonstration at The Old Fort. Plus, adults 21+ are invited to warm up with cocktails, cocktails, live music and more at Winter Cozy that evening!
Mizpah Shrine Circus & Fair
January 25-28 / Memorial Coliseum
The whole family is invited to enjoy the fun at the Mizpah Shrine Circus & Fair this month! Catch one of six shows happening at the Memorial Coliseum.
Outdoor Sports, Lake and Cabin Show
January 26-28 / Memorial Coliseum
Book your next outdoor adventure, customize your very own rustic dream home, or compare, test and purchase top-quality products! Don't forget to take a ride on the zip line before you leave.