These are just a few of the great events happening in Fort Wayne in October. For a complete list of events, browse the Visit Fort Wayne Calendar of Events. 
Vera Bradley Foundation: Tickled Pink
October 4 / Vera Bradley Design Center
Gather the girls for the Vera Bradley Foundation Tickled Pink event, celebrating friendship, health, and a shared commitment to finding a cure for breast cancer! Enjoy food, cocktails, and a sneak peek at the latest Vera Bradley designs!
Wind in the Willows
October 4 – 6 / Parkview Physicians Group ArtsLab
The Fort Wayne Youtheatre presents Wind in the Willows! Join Loyal Mole, Cultured Ratty, Gruff Mr. Badger and Impulsive Mr. Toad on a thrilling adventure in the Wild Woods.
Agatha Christie's Spider's Web
October 4 – 5, 11 – 12, 18 – 19 / Arena Dinner Theatre
Don't miss the opening weekend of Agatha Christie's Spider's Web! A parody of the detective thriller, this show offers the perfect blend of suspense and humor.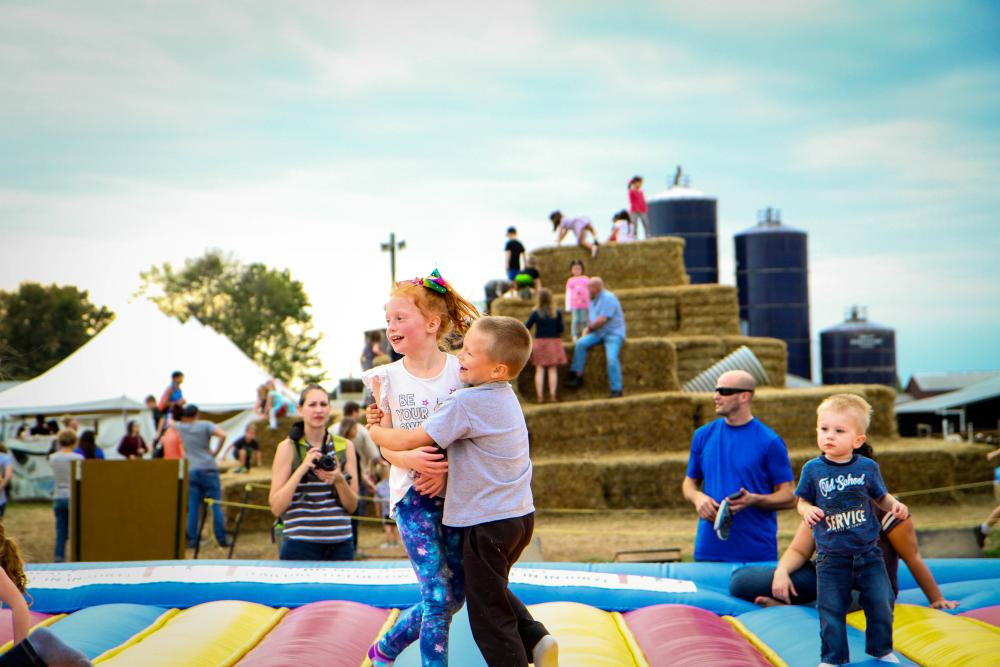 Kuehnert Dairy Fall Festival
October 4 – 6, 11 – 13, 18 – 20, 25 – 27 / Kuehnert Dairy Farm
Don't miss out on the Kuehnert Dairy Fall Festival every weekend through October 27! Kids of all ages can explore the 5-acre corn maze, roast marshmallows around the bonfire, and meet the farm animals.
Fall Bridal Spectacular
October 6 / Memorial Coliseum
Discover everything you need to plan your perfect wedding—all in one place. From photographers and florists to venues and hotels, brides will find it all at the Fall Bridal Spectacular!
Punkin' Path
October 8 – 27 / Botanical Conservatory
Celebrate fall and enjoy a scenic walk through the Botanical Conservatory's outdoor gardens. The Punkin' Path is decorated by pumpkins, gourds, bales of hay, and gnomes! Journey the path and search for the gnomes or capture fall photos with friends and loved ones.

Wild Zoo Halloween
October 11 – 13, 18 – 20, 25 – 27 / Fort Wayne Children's Zoo
Break out the costumes and enjoy some merry-not-scary fun during Wild Zoo Halloween! See your favorite zoo animals, explore the Treat Trails, pick out your own mini pumpkin, and more.
Hobnobben Film Festival
October 11 – 13 / Cinema Center
Film lovers, filmmakers, and casual film consumers are all welcome at Hobnobben Fim Festival, presented by Cinema Center. Don't miss the area's largest celebration of film!
Move to the Rhythm in October!
This month features a full lineup of incredible music in every genre. Grab a ticket and catch a show!
Trippin' Billies – Dave Mathews Tribute Band / October 5
Disturbed "Evolution Tour" / October 7
Here Come the Mummies / October 11
Lyle Lovett and his Acoustic Group / October 12
An Evening with the Branford Marsalis Quartet / October 13
Ben Folds and a Piano with Savannah Conley / October 18
The Mersey Beatles / October 19
Luke Bryan: Sunset Repeat Tour / October 23
Black Violin / October 23
An Evening with Heather Headley / October 24
Three Dog Night / October 27
Rhythm & Praise: Charles Jenkins with Marvin Sapp / October 28
Theory of a Deadman / October 29
Music of Cream / October 30
Fort Wayne Komets
October 12, 18, 19, 25, 26 / Memorial Coliseum
Grab your tickets and join the jungle! The Fort Wayne Komets hit the ice this month for the start of another exciting season. Hockey season is back!
Pumpkin Train
October 12 – 13 / Fort Wayne Railroad Historical Society
All aboard for the 3rd annual Pumpkin Train! Enjoy a festive, 15-minute train ride aboard a historic, heated caboose! You can also pick out your own pumpkin to take home with you.
Brickworld – LEGO Fan Exposition
October 12 – 13 / Grand Wayne Convention Center
Bring the entire family for a weekend of LEGO fun! Explore intricate LEGO creations, and enjoy interactive activities including play areas, fighting robots, and more at the Brickworld LEGO Fan Expansion.
Mac & Cheese Festival
October 12 / Headwaters Park
The Mac & Cheese Fest returns to Headwaters Park! With admission, enjoy unlimited mac & cheese samples from local vendors, a cash bar, live music, and more – all supporting Community Harvest Food Bank's efforts to relieve hunger in northeast Indiana.

Fright Night
October 19 / Downtown Fort Wayne
Enjoy a day of harrowing haunts in Downtown Fort Wayne at the annual Fright Night! The spook-takular event features the all-ages "Zombie Walk," plus other frightfully fun activities like lantern tours, a night in the old city jail, Rocky Horror Picture Show, and more!
Fright Night Haunts
Here's a taste of all the frightful fun you can experience during Fright Night on October 19!
DIA Fort Wayne: A Dia de Los Muertos Celebration
Monster Dash
The Old Fort: Haunted Lantern Tours
A Night in the Old City Jail
Rocky Horror Picture Show
Pumpkin Zone
Nevermore: A Murder Mystery at Promenade Park
Not So Frightening Fun at the Library
Fort Wayne Ballet: The Legend of Sleepy Hallow
Fort Wayne Dance Collective: Magical Misadventures
Champions of Magic at the Embassy Theatre
Ghostly Gala: Rise of the Villains
Find more Fright Night festivities.
Fort Wayne Philharmonic: Halloween Spooktacular
October 20 / Auer Performance Hall at Purdue University Fort Wayne
The whole family will love the Fort Wayne Philharmonic's kid-friendly Halloween Spooktacular performance, featuring music from Harry Potter, Lord of the Rings, and Wonder Woman! Costumes are welcome and highly encouraged.
Broadway at the Embassy: The Color Purple
October 29 / Embassy Theatre
Featuring an amazing score of jazz, gospel, ragtime, and blues, The Color Purple offers a stunning re-imagining of an epic story about a young woman's journey to love at triumph in the American South.
Fort Wayne Philharmonic
Join the Fort Wayne Philharmonic to kick off its 76th season! The season opens with Tchaikovsky Spectacular on October 5. Don't miss Rudy in Concert on October 12, as the movie plays on the big screen and the Philharmonic performs the complete iconic score live!
Watch More...