Discover a few of the amazing festivities and holiday events happening in Fort Wayne in March. For a complete list of events, browse the Visit Fort Wayne Calendar of Events.
45th Annual Fort Wayne Home & Garden Show
March 1-4 / Memorial Coliseum
Find the expertise and inspiration you need to start your next home project! The show features over 650 exhibitors, with the latest in contemporary home and garden products and services. Don't forget to enjoy the kid-friendly activities in the Family Fun area!
Disney on Ice: Reach for the Stars
March 1-4 / Memorial Coliseum
Join Mickey, Minnie, Anna, Elsa, and your other Disney friends for a magical show! This skating extravaganza will offer thrills and fun for the whole family.
Down the Line 12
March 3 / Embassy Theatre
This one-night music event features five unique local bands, each paying tribute to a different legend of rock! Enjoy the sounds of Radiohead, Stevie Wonder, Phil Collins, The Police and STYX.

Revolutionary War Garrison
March 3 / The Old Fort
The harsh winters were tough on Colonial soldiers. Take an up-close look at winter survival, and how the soldiers prepared their equipment and skills for the struggle against England.
March 9, 16, 17, 19, 23 / Memorial Coliseum
Bring your family and friends to catch the Fort Wayne Mad Ants in action during their final month of the regular season! Kids and adults will enjoy this affordable, fun basketball experience.
The Glass Menagerie
March 9, 10, 16, 17, 23, 24 / Arena Dinner Theatre
Enjoy dinner and a show at Arena Dinner Theatre, featuring one of the most famous plays of the modern theatre! Discover a story of great tenderness, charm, and beauty in Tennessee Williams' The Glass Menagerie.
Concerts
March is full of great music for all ages to enjoy! From Celtic celebrations to classical favorites, here are a few shows to check out this month.
Fort Wayne Philharmonic: Beethoven's Pastorale Symphony
Heartland Sings: Celtic Landscapes
In the Mood at the Embassy Theatre
Newsboys United 30th Anniversary Tour
Rockin' Road to Dublin
March 10, 11, 21, 24, 28 / Memorial Coliseum
Grab your tickets and head to the Memorial Coliseum for winter sports action. Join the jungle and cheer on the Fort Wayne Komets before the season comes to a close!
Buyer & Cellar
March 16-25 / Fort Wayne Civic Theatre at the Arts United Center
Don't miss this irresistible one-man show, set in the basement of the beloved megastar, Barbra Streisand! This outrageous comedy ponders the price of fame and the oddest of odd jobs.

Get Green Fest
March 17 / Downtown Fort Wayne
Head downtown for Fort Wayne's family-friendly St. Patrick's Day festival! This annual celebration features the popular St. Marys river greening.
Fort Wayne Philharmonic: Bowie and Prince
March 17 / Embassy Theatre
Join the Fort Wayne Philharmonic for a tribute to David Bowie and Prince – two music icons who pushed creative boundaries, transforming the musical world.
Shopping
Discover two unique shopping events returning this March!
Lucky Duck Children's Consignment Sale
Shipshewana on the Road

Earth, Wind & Fire
March 21 / Embassy Theatre
Grab your tickets for an unforgettable night in Fort Wayne with Earth, Wind & Fire! The legendary group will perform your favorite hits and more throughout the show.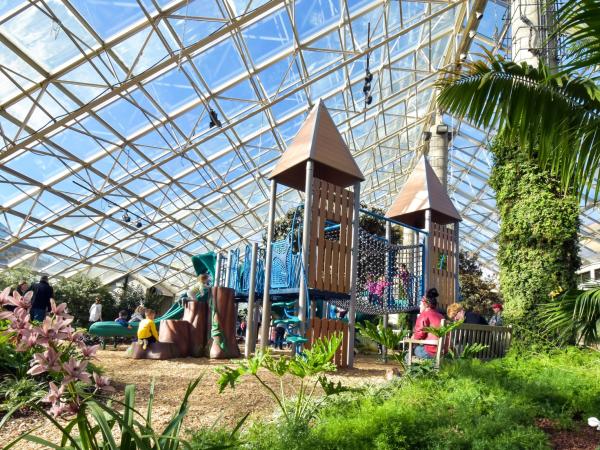 Fairy Tales – Winter Garden Exhibit
Through April 8 / Botanical Conservatory
Let your child's imagination explore the stories of fairy tales in this indoor play space! The participatory garden exhibit encourages active pretend play, offering fun for children and their parents.
Ft. Wayne's Farmers Market – Indoor Market
Every Saturday / Parkview Field
On Saturday mornings, discover fresh produce and handmade goods at the indoor market at Parkview Field! From meats and jams to natural bath products, this market has it all.
Coppélia
March 23-25 / Arts United Center
This beautiful collaboration between the Fort Wayne Ballet and Fort Wayne Philharmonic tells the story of a doctor who has made a life-size dancing doll.
This Marvelous and Turbulent World
March 24 – May 7 / Fort Wayne Museum of Art
Discover pieces from artist Andrew Schoultz, whose distinct imagery explores our world and the history within. His work explores recurring themes of chaos and destruction, two forces Schoultz believes are constantly in flux in our world.
Watch More...