Winter Bridal Spectacular
January 4 – 5 / Memorial Coliseum
Visit over 100 booths featuring top wedding specialists at northern Indiana's premier bridal show. Find everything you need to plan your perfect day under one roof, including door prizes and samples.
January 4, 10, 12, 18 / Memorial Coliseum
Join the jungle and cheer on the Fort Wayne Komets this month! Grab your tickets and head to the Memorial Coliseum for winter sports action.
January 7, 13, 17 / Memorial Coliseum
During January, bring your family and friends to catch the Fort Wayne Mad Ants on the court! Kids and adults will enjoy this fun, affordable basketball experience.
Dog Days of Winter – Garden Exhibit
Opens January 11 / Botanical Conservatory
Get out of the cold and discover this garden of make-believe, where young ones can imagine what it's like to be a pup! Kids can explore the agility course, check out different dog houses, and practice howling at the moon – all while enjoying the lush, green, indoor gardens.
January 11, 19, 22, 25, 26 / Various Locations
Join the Fort Wayne Philharmonic for a month full of delightful performances, including Flying with E.T. and Peter Pan, Brahms Clarinet Quintet, Peer Gynt and Polovtsian Dances, and Piano Themes from Cinema's Golden Age.
January 15 – 26 / Participating Fort Wayne Restaurants
Savor Fort Wayne returns in 2020 with 12 delicious days of menu deals! Discover special three-course deals at nearly 50 participating restaurants. Pick up a STAR Rewards Card, collect stars as you dine during Savor Fort Wayne, and return your completed Rewards Card for a chance to win $500 in dining gift cards. #SavorFW
A-MAZE-D
Opens January 18 / Science Central
Step into a world of mazes and test your problem-solving skills! Experience the amazing puzzles of Dave Phillips – veteran maze designer and author of more than 50 maze books. This thrilling exhibit encourages all ages to explore the maze and lose themselves in challenging puzzles.
Winterval
January 25 / Downtown Fort Wayne
Celebrate winter downtown with a day of family-friendly indoor and outdoor activities! Watch ice carvers create wonders from a solid block of ice, enjoy a carriage ride, or catch a demonstration at The Old Fort. Plus, adults 21+ are invited to warm up with cocktails, live music, and more at Winter Cozy that evening!
Winter Cozy
January 25 / Promenade Park Pavilion
After a day of Winterval fun, adults 21+ can end the day by immersing themselves in "Hygge" with food, drinks, candlelight, and more at Winter Cozy! Play games, enjoy live music, and roast s'mores with friends. Don't forget to check out the ice luge to cool your drinks!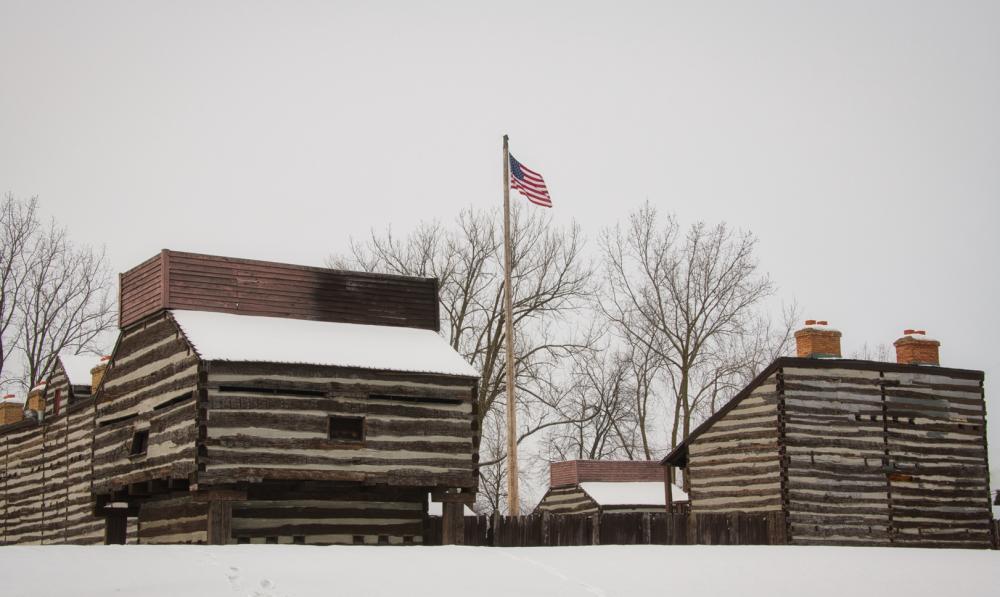 Nouvelle Annee
January 25 / The Old Fort
Experience reenactments of French Soldiers, civilians, and Native American Allies as they battle the winter elements during the French and Indian War. An immersive day of living history awaits at the Post des Miami – which would one day be known as Fort Wayne.
January Concerts
Ring in the New Year with national touring concerts coming to The Clyde Theatre!
Face 2 Face: A Billy Joel and Elton John Tribute / January 11
Chris Lane / January 16
Umphrey's McGee / January 29
JK O'Donnell's Winter Warmer
January 25 / JK O'Donnell's Irish Ale House
Adults 21+ are invited to JK O'Donnell's Annual Winter Warmer craft beer sampling. Stay cozy and drink local this winter!
Darci Lynne & Friends: Fresh Out of the Box Tour
January 26 / Embassy Theatre
Winner of NBC's America's Got Talent, 15-year-old singer/ventriloquist Darci Lynne is heading to Fort Wayne with a few of her musical friends: Petunia, Oscar, and Edna.

Headwaters Park Ice Skating
Through March 1 / Headwaters Park
Glide and twirl into 2020 with outdoor ice skating at Headwaters Park! Grab your skates and hit the ice all winter long. Plus, kids 13 & under skate free on Wednesdays.
Various Dates / Promenade Park
Head to Promenade Park in January and discover a month of fun for all ages. Take part in guided, informative walking tours; let your creative voice be heard at Speak, Sing, or Wing Night; encourage outdoor exploration for kids with the Young Naturalist Series; or let your inner artist shine with Creativity for a Change. See more events here.
For the Outdoor Enthusiast
January may be chilly, but it's a great time to explore new products, trip ideas, and equipment for your outdoor adventures during the summer months!
All American Outdoor Expo / January 10 – 12
Fort Wayne Farm Show / January 14 – 16
Fort Wayne RV & Camping Show / January 30 – February 2
Theatre Performances
Stay warm as you enjoy a few of Fort Wayne's theatre offerings this January.
Beyond Glory / January 2 – 4, 10 – 12, 17, 18
Who's in Bed with the Butler? / January 17, 18, 24, 25, 31, February 1
Watch More...