Le Chic Holiday Market
December 2 - 3 / Memorial Coliseum
Shop the 2022 Le Chic Holiday Market, featuring many amazing, unique vendors at the Memorial Coliseum! Find the perfect holiday gifts for everyone on your list.
Days of Holly Shopping
December 3, 10, 17 / Downtown Fort Wayne
The Days of Holly Shopping is designed to support our friends and neighbors in the dining and retail sectors throughout the holiday season. This four-week event begins Saturday, November 26, 2022, and runs every Saturday through December 17, 2022, to enhance your shopping experience and maximize support for our community businesses.
Wild Zoo Wonderland
December 2 - 4, 9 - 11, 16 - 22
Family friendly holiday event, visit Santa in his workshop, Story Time featuring Twas the Night Before Christmas at the Zoo, cookie decorating, free train rides, plus visit the Indiana Family Farm, Stingray Bay and the Australian Reef. Visit kidszoo.org for all the details.
Santa Sightings
Breakfast with Santa / Botanical Conservatory, December 3
Breakfast with St. Nicholas / USF Performing Arts Center, December 3
Santa Claus at the History Center / The History Center, December 3
Saving Santa / Fort Wayne Firefighters Museum, December 4
Breakfast with Santa / First Presbyterian Theater, December 17
Santa's Waynedale Trolley Tour / Waynedale Area, December 24
December 3, 5 / Memorial Coliseum
During December, bring your family and friends to catch the Fort Wayne Mad Ants in action! Kids and adults will enjoy this affordable, fun basketball experience.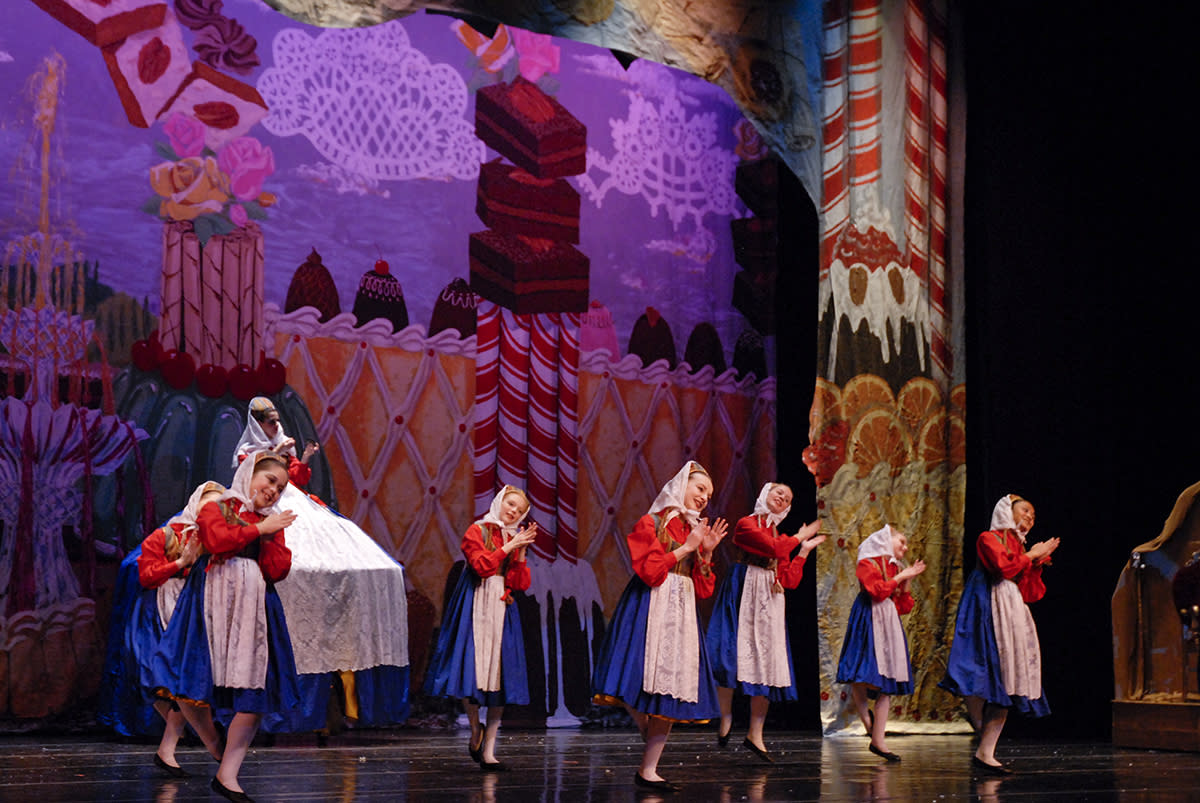 Fort Wayne Ballet: The Nutcracker
December 2 - 4, 8 - 11 / Arts United Center
Join the Fort Wayne Ballet for The Nutcracker—a local holiday favorite. Go on a fantastic adventure with Clara and her Nutcracker in this beautiful performance.
Kris Kringle Village
December 2 - 4, 9 - 11 / Arts United Center Plaza
As part of the Nutcracker's festivities, come to this traditional German Christmas Market. Browse the charming, wood chalets filled with seasonal food and gifts. 
City of Churches Tour
December 2 / Various Churches
Explore the "City of Churches" as 15 Fort Wayne churches open their doors for free tours. Discover the stunning, diverse architecture of these historic places of worship.

Fort Wayne Philharmonic Holiday Pops
December 9 - 10, 17 - 18 / Embassy Theatre
Join the Fort Wayne Philharmonic for their annual Holiday Pops performances! This beloved tradition features amazing dancing, Santa and Mrs. Claus, sing-alongs, and the "Hallelujah" Chorus—and it's sure to put the audience in the festive spirit.
December 2, 4, 10, 17, 18, 23, 28, 31 / Memorial Coliseum
Join the jungle and cheer on the Fort Wayne Komets at home this month! Grab your tickets for the New Year's Eve game and be part of a true Fort Wayne hockey tradition.
Live Reindeer at Jefferson Pointe
December 3, 10, 17, 24  23! The 24th has been cancelled due to weather, but come on the 23rd between 5-7pm for a special appearance
Bring out the family to meet live reindeer at Jefferson Pointe located in the fountain court area! Santa's reindeer will be visiting every Saturday and for an extra special Christmas Eve, visit Jefferson Pointe noon - 2pm to visit with the reindeer.
Artisan Market: Holiday Edition
December 3 - 18 / Union Street Market
The Market's first annual Holiday Artisan Market features an assortment of vendors selling fresh food and handcrafted goods. The event will be held in the Arcade, a 5,000-square-foot space between our East and West Halls. The Artisan Market will run every Saturday and Sunday from November 26–December 18, 11am–5pm.
Lighting of the Lake and Living Nativity
December 4 / St. Francis Chapel and Mirror Lake
Free petting zoo begins at 5:30 p.m., followed by the blessing of luminaries dedicated to those who are special at 6 p.m. Immediately following the blessing, members of our University community will portray the Living Nativity. End the evening with complimentary cookies and hot cocoa at Achatz Hall of Science and John and Toni Murray Research Center.
Miracle on Jefferson Holiday Bar Pop Up
Through December 31
Miracle on Jefferson is brought to you by Copper Spoon, and will feature a holiday oasis with over the top kitschy, festive décor, and a themed cocktail menu.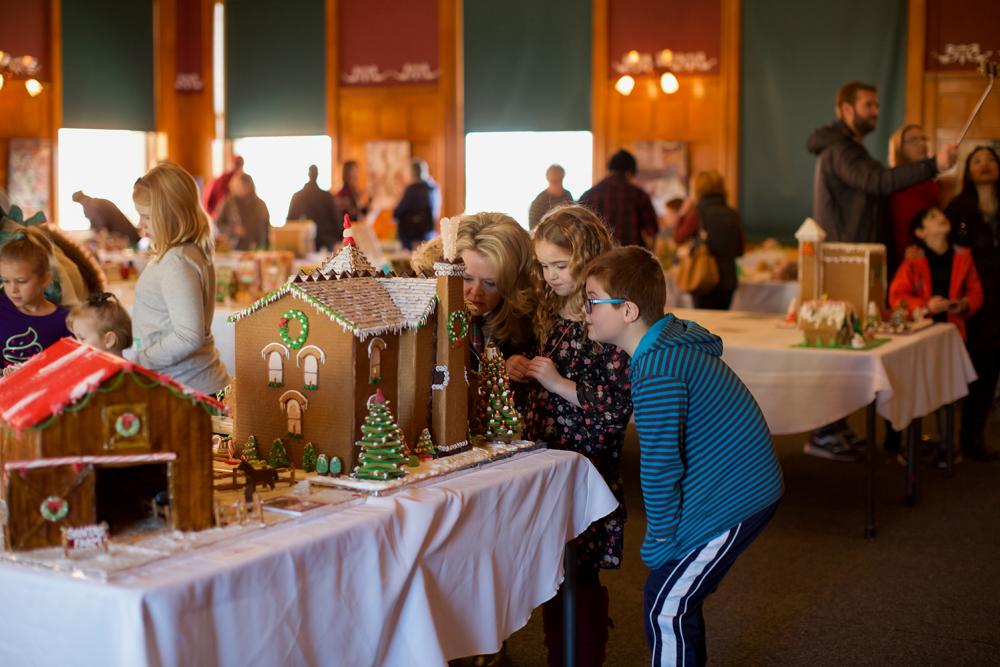 Festival of Gingerbread
Through December 18 / The History Center
Don't miss your chance to discover over 100 incredible gingerbread creations! Head to The History Center for this annual festival, featuring giant displays created by locals of all ages and professions.
Rumble in Fort Wayne
December 30 - 31 / Memorial Coliseum
Experience two days and nights of competitive racing programs inside the Memorial Coliseum. This indoor racing tradition began in 1956, and returns for an action-packed weekend.
Happy Smallidays
Through January 8 / Botanical Conservatory
Little Mouse sneaks into the Conservatory looking to cozy up for the smallidays. However, there is so much commotion that he keeps getting nudged to the side by the hurry and scurry of holiday decorating. He wants nothing more than for everyone to slow down and find joy in the little things. Follow Little Mouse in this endearing holiday story and be inspired by the heartfelt lesson he has to share.
Thursdays and Fridays through December 23, don't miss the $1 Night Light Displays! See the gardens in light with charming displays and stunning poinsettias.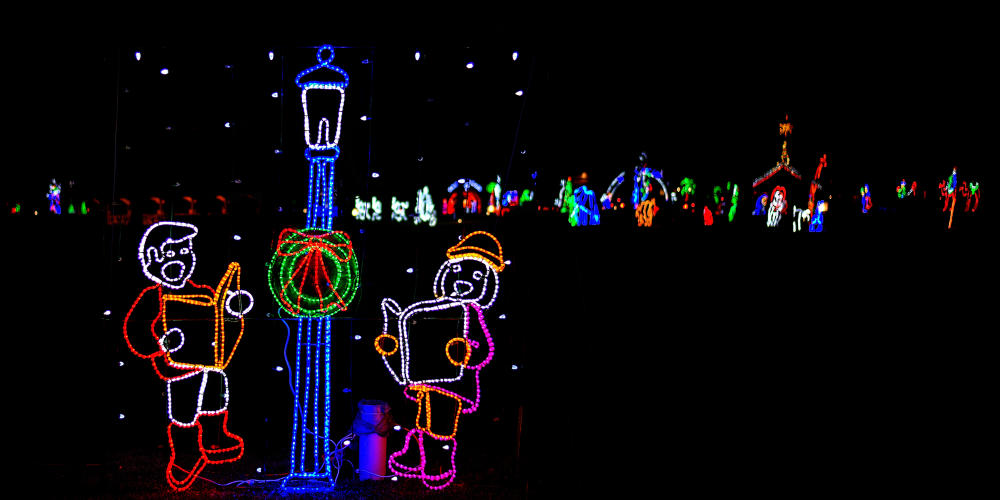 Fantasy of Lights
Through December 31 / Franke Park
Journey the 2-mile driving trail through the Fantasy of Lights at Franke Park and discover more than 110 breathtaking, larger-than-life light displays! Back this year, catch the Christmas Village - a popular walk-through event at the end of the driving route with a variety of food and craft vendors, the first 3 weekends in Dec.
Through February 26 / Headwaters Park
Grab your mittens and head downtown for ice skating at Headwaters Park! Celebrate the season at the outdoor rink with friends and family, as you zip and twirl around the ice. Bring your own skates or rent a pair at the rink.
Tea Party with Elsa
December 10 / The Bradley Hotel
You are invited for a Tea Party with Elsa! Elsa is so excited to meet her friends. Select food and drinks will be included. Meet and greet time available as well as photo opportunities!
Harlem Globetrotters 2023 World Tour
December 26 / Memorial Coliseum
Part streetball from the players who defined it, part interactive family entertainment, the new Spread Game tour will show off the best of the Globetrotters in a dazzling exhibition of talent and game.
Countdown to Noon Celebration
December 31 / Science Central
Celebrate the New Year with Science Central's annual balloon drop at noon! Kid-friendly activities include face painting, craft stations, and science demonstrations leading up to the balloon drop.
Theater & Shows
Grab your tickets to see one of these thrilling performances this month!
A Christmas Carol - A New Fort Wayne Tradition / Old Barn at Salomon Farm Park, December 1 - 11
Jason Banks / Summit City Comedy Club, December 1 - 3
Mrs. Bob Cratchit's Wild Christmas Binge / Area Dinner Theatre, December 2 - 18
Kinky Boots / Arts United - Artslab, December 2 - 18
Melvin Bender / Fort Wayne Comedy Club, December 3
Kenan Thompson's Ultimate Comedy Experience / Summit City Comedy Club, December 4
For Real Comedy Stories: presented by Maumee Mary & Joseph Comedy Festival / Riverfront Fort Wayne, December 8
Jon Lovitz / Summit City Comedy Club, December 8 - 10
Frozen Jr. / First Presbyterian Theater, December 9 - 18
Best Christmas Pageant Ever / First Presbyterian Theater, December 9 - 17
A Woman No More - The Story of Medusa / Studio Theatre in Kettler Hall, December 9 - 10
Mike Merrifield / Fort Wayne Comedy Club, December 10
Damon Williams / Summit City Comedy Club, December 11
Joe "Mr.D" Dombrowski / Summit City Comedy Club, December 15
Jimmy Failla / Summit City Comedy Club, December 16 - 17
Billy Ray Bauer / Fort Wayne Comedy Club, December 17
Mike Cronin / Summit City Comedy Club, December 22 - 23
Brad Williams / Summit City Comedy Club, December 29 - 31
Move to the Rhythm
Discover live music that suits your taste, plus many holiday specials you won't want to miss!
Switchfoot - This is Our Christmas Tour / Clyde Theatre, December 2
Erin Coburn / Baker Street Centre, December 3
Project Ballet Presents The Nutcracker / Embassy Theatre, December 3 - 4
A Motown Christmas / Embassy Theatre, December 5
Phil Vassar & Deana Carter: Coming Home for Christmas / Clyde Theatre, December 11
Lindsey Stirling Snow Waltz Tour / Embassy Theatre, December 12
Straight No Chaser / Embassy Theatre, December 14
Diamond Rio: Holiday & Hits / Clyde Theatre, December 15
For King & Country Christmas Tour / Memorial Coliseum, December 16
The Rat Pack is Back for the Holidays / Embassy Theatre, December 16
Smooth Edge 2's Yuletide Jingle Ball / Baker Street Centre, December 16
The Spirit of Christmas / Allen County Courthouse, December 16 - 18
Bill Gaither - The Brighter The Light Tour Christmas 2022
Raheem DeVaughn The Love King Tour / Embassy Theatre, December 23
New Year's Eve Festivities
Doc West's Rockin' New Years Eve Eve with Hairball / Clyde Theatre, December 30
New Year's Eve Bash / The Bell Mansion, December 31
Science Central's Countdown to Noon / Science Central, December 31