These are just a few of the great events happening in Fort Wayne in August. For a complete list of events, browse the Visit Fort Wayne Calendar of Events. 
Fort Wayne Children's Zoo – Zoofari
August 2 / Fort Wayne Children's Zoo
Guests 21+ can sample delicious food, beer, and wine from more than 50 local and regional establishments as they stroll through the zoo, listening to live music from local bands and enjoying the animals. Proceeds support zoo operations, conservation, education, and animal care.
August 3 – 9, 17 – 20, 28 – 31 / Parkview Field
Come out to the ballpark and cheer on the TinCaps this month. Experience the excitement first-hand at one of the best Minor League Baseball stadiums in the country!
Willie Nelson & Family and Alison Krauss
August 5 / Memorial Coliseum
One of the most successful country music singer-songwriters, Willie Nelson, is heading to Fort Wayne this August! 27-time Grammy Award Winner, Alison Krauss, will join the show with her highly-revered bluegrass sound.
Promenade Park Grand Opening
August 9 – 11 / Promenade Park
Celebrate the grand opening of the brand-new Promenade Park, along Fort Wayne's downtown riverfront! The three-day event features a floating band performance, community arts projects, river lighting, boat flotilla, butterfly release, and free boat rides. Experience every thrilling aspect of the new park, from the amphitheater and treetop canopy trail, to the beer garden and Trubble Riverside Café & Tap—and beyond!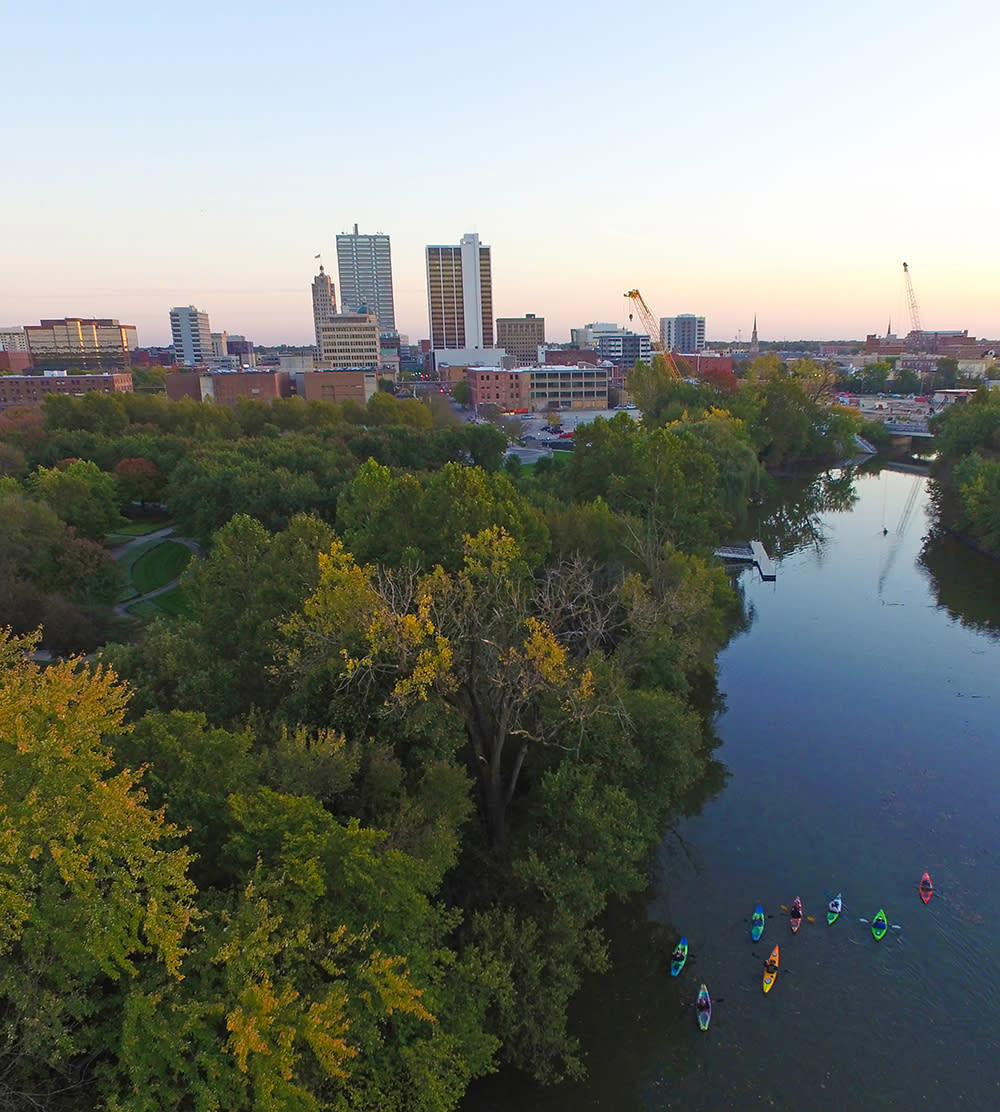 @riverfrontfortwayne
Fort Wayne Dragon Boat Races
August 10 / Promenade Park
The whole family is invited for a day of fun along the rivers! Cheer on the teams competing in the thrilling Dragon Boat Races, then enjoy the Athletes Village for socializing, free children's activities, Trubble Riverside Café & Tap, and more.
Summer Farmers Markets
Enjoy a stroll through Fort Wayne's outdoor farmers markets this summer. Stock up on locally-sourced produce and handmade goods for the week!
Ft. Wayne's Farmers Market
YLNI Farmers Market
Historic Southside Farmers Market
Historic West Main Street Farmers Market
Harvester Homecoming
August 10 / Scout Park
This special event celebrates the long histories of Harvester and Navistar in Fort Wayne, honoring the men and women who worked there starting in the 1920s. Catch the all-Harvester classic truck show, historical displays, access to the legendary "Proving Grounds" test track, and a reception recognizing those former workers.
Chitty Chitty Bang Bang
July 27 – August 11 / Arts United Center
The Fort Wayne Civic Theatre kicks off its new season with Chitty Chitty Bang Bang, based on the hit film! This family-friendly production is filled with stage spectacles and unforgettable songs.
K105 Country Fest
August 15 / Parkview Field
Country music fans are in for a treat! Crowd favorite, Justin Moore, will headline this year's event, also featuring Cadillac Three, Dylan Schneider, and a MAJOR winner from the latest ACM Awards.
The Bacon Brothers: The Shaky Ground Tour
August 24 / Clyde Theatre
The Bacon Brothers have spent more than 20 years devoted to making music together. Actor Kevin Bacon and his brother, composer Michael Bacon, are not just an award-winner pair. With the help of their band, they create an authentic sound that is not to be missed.
Post Miamies: 1754 – 1763
August 24 – 25 / The Old Fort
French and British forces clash at the Old Fort as the 1700s come alive. Take a step back into America's history as you experience battle re-enactments, visit merchants, tour the Old Fort, and talk with historical artisans. You won't want to miss out on this free event!

Taste of the Arts Festival
August 23 – 24 / Arts Campus Fort Wayne
A festival for everyone's taste! Celebrate arts and culture at the 11th Annual Taste of the Arts, featuring live theater, music, dance performances, buskers, and an all-day art market. While you're at it, savor delicious local food and drinks from dozens of Fort Wayne eateries and breweries.
Auburn Cord Duesenberg Festival
August 24 – September 1 / Auburn, Indiana
Whether you're interested in Classic Cars, swap meets, parades or antiques, the Auburn Cord Duesenberg Festival has a little bit of everything! Visitors from around the world head to Auburn, Indiana each year for this classic car celebration for the whole family.
Botanica Jones: Scientist, Merchant or Thief? — Garden Exhibit
Through November / Botanical Conservatory
Visit a wealthy Englishwoman's garden, showcasing plants brought back by "Botanica Jones," a fictional plant explorer of the late 1800s through the early 1900s.
Lunch on the Square
Thursdays through August 29 / Freimann Square
Skip the break room and join us for lunch downtown! Every Thursday this month, enjoy the best food truck fare and live music with family, friends, and co-workers. See you at Freimann Square!
Botanical Roots Concert Series
Fridays through August 30 / Botanical Conservatory
Every Friday at 8:30pm, head downtown to the Botanical Conservatory and enjoy live music in the outdoor Terrace Garden. Dance the night away and soak in the warm summer air.
Enjoy the Summer Tunes
This month, enjoy tons of live music options around the city! Grab your tickets to one of these great concerts coming up in Fort Wayne.
Foghat / August 1
Gin Blossoms / August 2
Rumours: A Fleetwood Mac Experience / August 3
Glen Miller Orchestra / August 6
Slash ft. Myles Kennedy & The Conspirators / August 7
Southern Accents: The Ultimate Tom Petty Experience / August 9
Billy the Kid: The Definitive Billy Joel Tribute / August 10
Brian Wilson / August 10
JJ Grey & Mofro and Jonny Lang / August 11
Twins of Evil: Rob Zombie and Marilyn Manson / August 11
Rick Springfield / August 15
An Evening with Vince Gill / August 22
Toad the Wet Sprocket / August 29
The Allman Betts Band / August 30
Pat Metheny Side Eye Tour / August 31
Plus, check out these concert series before the summer ends!
Friday Nites Live
Rock the Plaza
Summer Nights at the Embassy
Lunch Time Concerts on the Plaza
YLNI Living Fort Wayne Concert Series