Most folks probably wouldn't choose to spend their holidays with a bunch of mean adolescents, but they'll happily make an exception for the six boisterous Herdman kids who will be making an appearance in Fort Wayne at the Fort Wayne Youtheatre's performance of the Best Christmas Pageant Ever. Enjoy as the Herdman kids charm their way into theatergoers' hearts.
Followers of the cult – well, maybe "cult" is not the right word – but avid fans of the play Best Christmas Pageant Ever will welcome the 45th anniversary of this wonderful holiday story first seen in Barbara Robinson's 1971 book, "The Worst Kids in the World," before being adapted into the popular drama it is now.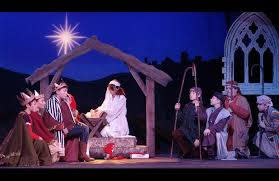 The Herdman kids – Imogene, Claude, Ralph, Leroy, Ollie, and Gladys – do things not appropriate for students – smoking, drinking jug wine and shoplifting. One day the family delinquents hear that a nearby parish was having free snacks so they go to the facility for the first time.
They are given parts in the Sunday school's Christmas play in which they relate the holiday story in an unconventional manner, against the protests of other church members. The audience joins in the hilarity as the motley crew shows the true meaning of Christmas through their acting prowess.
This year for Fort Wayne Youtheatre fans there will be a Christmas pageant reunion party – FREE!  December 10, 2016, at noon which gives old friends and cast mates a chance to reconnect. Come one, come all!
The fun begins at First Presbyterian Theatre, on December 9, 10, 11, 16 and 17!
300 W. Wayne, Fort Wayne, IN
December 9 & 16 at 7:00 p.m.
December 10, 11, 17, 18: 2 p.m. 
Ticket prices are $18/Adult, $12/Child (18 & younger) & Senior, $12 group rate (for 10 and more).  
Visit fortwayneyoutheatre.org for ticket information or call (260) 422-6900.