I can trace my first musical memory back to 1981 when I heard what would become my first favorite song – The J. Geils Band's "Centerfold." Yes, when I was four years old, my favorite song was "Centerfold." Now don't worry, it would be a few years before I actually knew what the song was about, but what I did know instantly – what I felt instantly – was the power of music. It was the first in a series of thousands of moments: middle school musicals, high school dances, late nights alone with my headphones on, live performances, and everything in between. One of the artists of whom I have many musical memories, Ben Folds, returns to the Summit City to perform with the Fort Wayne Philharmonic on October 17, 2014, at the Historic Embassy Theatre.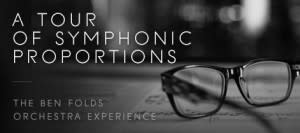 I first saw Ben Folds Five (Ben plus bandmates Darren Jessee and Robert Sledge) in 1997; this October, I'll be seeing him for what is, I think, the fourteenth time. Ben Folds is best known for the 1998 hit single "Brick," a great pop song infused with genuine melancholy. It's the infusion of emotion – regret, longing, love – that makes Folds such a dynamic singer-songwriter, one whose closest pop analogue is Elton John. And like Elton John, there is a playfulness to his music as well, a playfulness that finds its way into his live performances, where there are multi-part sing-alongs, music theory lessons, and gangsta rap covers. He is one of the few artists I've seen who has the ability to captivate an audience whether alone on stage or backed by an entire orchestra. It's time to make some new musical memories, folks. Whether this is your first or fourteenth time seeing Ben Folds, you'll have an amazing time. Tickets are still available and range from $32 to $70 (certain fees may apply). Purchase your tickets at the Embassy Theatre box office or online at
https://tickets.artstix.org
.