Talk about a fun educational experience! School-aged children are invited on a personalized tour of one of Fort Wayne's most beautiful landmarks – The Embassy Theatre.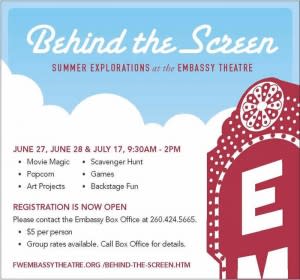 This special opportunity is an especially meaningful adventure for children who have visited the Embassy for special events, like Christmas or even attended a silent movie with the Embassy's historic Grande Page organ. Children who have never visited the Embassy will find it equally amazing to observe this gigantic musical instrument and its home for the past several decades. In addition to examining the Page organ, kids can participate in art projects like creating mosaics and rubbings. Games are planned, including a Scavenger Hunt! I might have to join them as I love scavenger hunts! There's even popcorn! What could be more appropriate for a movie theater setting? Behind the Screen takes place on June 27, 28 & July 17. Time: 9:30 a.m.-2 p.m. Tickets are $5 per person and available at the Embassy box office. Group rates are available by calling the Embassy box office at 260.424.5665. This is a totally cool creative and educational program for kids. Kudos to the Embassy Theatre staff for opening this precious historic landmark and allow our city's youngest residents to experience it up close through this organized activity. Hopefully it will inspire a love for the Embassy Theatre and loyalty for its contribution to Fort Wayne's quality of life. Go to the Embassy Theatre
website
for more information. Embassy Theatre 125 W. Jefferson Blvd.