Even though I am not yet a homeowner, I definitely appreciate all of the work that goes into giving homes a little TLC. I love watching HGTV just to see all of the different renovations, design ideas and house flips that people come up with - it's fascinating and exciting to me!
As someone who dreams of owning an older home when the time comes I know that there will be a lot of projects to tackle beyond the basic home upkeep, which is totally fine with me. I can't wait to mix old with new and even just the idea of these far away homey makeovers excites me when I think of them, If you're like me and are ready to take the dive into home improvement land (be it now, or a few years down the line), you'll definitely want to check out the Fall Home Design Expo at the Allen County War Memorial Coliseum on October 18-20!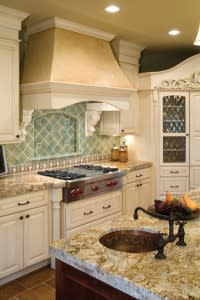 The inaugural Fall Home Design Expo will bring in more than 100 exhibitors ready and willing to talk with you, and even help plan, your home renovation ideas. No matter what your project or need, there is almost a guarantee that there will be someone that can help you. A wide array of booths will feature remodeling essentials related to kitchens, baths, carpet, doors, windows, insulation, room additions, home building, mortgages, roofing, decks, cooking, cabinets, refinishing, basements and much more. So, whether you're looking to replace a couple of windows, or are ready to go all-out on redesigning your humble abode, the Fall Design Expo will have experts on hand as a kind of one stop shop for homeowners. Besides all of the great exhibitors and examples of great remodels for you to peruse, there are also a few great activities being offered at the expo that you will not want to miss!
A couple of the highlights are: The Taste of Home Cooking School: If you grew up with the Taste of Home cookbook around like I did, this is a real treat! Culinary specialist, Chef Michael Barna, will host step-by-step demonstrations on easy-to-prepare seasonal recipes starting at 4 p.m. Saturday, Oct. 19 on the cooking stage. Even if you're not exactly a pro chef yourself, cooks with all levels of experience are welcome and  will have a chance to win door prizes, too. Admission to the Taste of Home Cooking School is $20 through the Coliseum ticket office.
Farmer's Market: This farmer's market will be one of a kind! Showgoers can stock up on fresh local produce and baked goods on Sunday, Oct. 20, and also enjoy cooking demos and educational sessions. Not only will you be filling up with fresh, local goods, you'll also have the chance to see how to to put them to good use.
Home Improvement Seminars: If you think you're ready to take the design and home improvement leap, but aren't sure where to start, do not fret. Cindy Friend, local interior designer and owner of Cindy Friend Boutique, will host presentations on "Kitchen & Bath Trends: Why Details Matter" at 3 p.m. on Saturday, Oct. 19 and 4 p.m. on Sunday, Oct. 20. Lowe's Home Improvement staff will present more than a dozen workshops offering tips and techniques on how to save money and be more energy efficient during the winter, use paint to add color and style, and how to install laminate flooring. You can find a complete listing of all of the seminars of the Fall Home Design Expo website.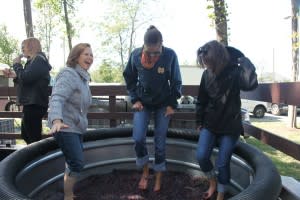 If you're not already convinced that this weekend-long event is a can't miss, I have saved the best for last. On the Friday of the expo, there will be the Indiana Wine Experience hosted by O'Daniel Porsche Audi.
This great and unique event will have live music by the J Taylors, cheese, a chocolate fountain, art, and of course wine tasting. There will also be a silent auction, hosted by none other than Santa and Mrs. Claus, benefiting the Fort Wayne Children's Foundation. The wines on hand will be from Indiana wineries. One of the coolest things about the evening is that attendees will have the opportunity to stomp 2,000 pounds of grapes ala Lucy Ricardo. Tickets for the Indiana Wine Experience are $20 per adult (age 21+), and $30 per couple. Every paid ticket receives free general admission to the Fall Home Design Expo and can be purchased on the Memorial Coliseum website.
The Fall Home Design Expo is $10 per person, and children 12 and under are FREE! Tickets can be purchased in advance on Ticketmaster, the Memorial Coliseum ticket office or on the day of the expo. For more information, visit the Fall Home Design Expo website, the Memorial Coliseum website, or Visit Fort Wayne.