For an exquisite night on the town, bring your family to the Embassy Theatre to enjoy one of Disney's finest musicals – Beauty and the Beast!
The historic Embassy Theatre is THE ideal venue for a musical of this magnitude.  The building's breathtaking décor and historic flair always create a regal feel for the theatre's year-round activities.  It also sets the stage perfectly for a performance like Beauty and the Beast.
As a drama teacher, one of the reasons why I personally love watching performances at the Embassy is because I know the quality of the acting will be superb and I will be talking about it for months with my students.  I'm a theater nut, so I also enjoy the other creative aspects that are involved in shows at the Embassy, like special effects and analyzing how each actor brings his or her character to life.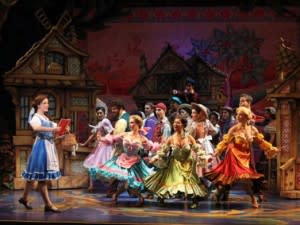 Beauty and the Beast is no exception.  With a cast of characters rangingfrom human beings to dishware and furniture, and with Belle's enchanting wardrobe, the beautiful, whimsical costumes are bound to leave you spellbound!
This is a family-friendly show, so children of all ages are welcome.  Or, make it a date night.  Whatever the occasion, the cast of Beauty and the Beast will gladly welcome your presence.  As the song goes, come be our guest!
When:  Monday, March 31, 2014, 7:30 p.m. Where:  Embassy Theatre, 125 West Jefferson Blvd. You can visit the Fort Wayne Theater website here for ticket information and other reviews, or call 1-800-430-8903 to order tickets. You can also go to the Visit Fort Wayne page for additional information.