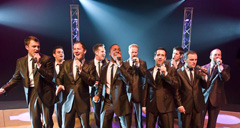 Fort Wayne has been chosen as one of only a handful of cities on Straight No Chaser's 2011 world tour to have the honor of hosting a special pre-show VIP experience for fans. The all-male a cappella singing group will perform at the Allen County War Memorial Coliseum Arena on Sunday, October 30. Tickets are still available at the Memorial Coliseum Ticket Office and are priced at $34.00 or $39.00 for regular seating.
In addition, in Fort Wayne, fans will be able to get up and close and personal with the group by purchasing a VIP Platinum Dinner Package for $125. The package includes early entrance in the venue, a backstage dinner with menu items specifically picked from favorites of the group's members and 1 prime floor seat for the show. The best part though, is that the band will join the diners and perform two songs privately, that will not be a part of the main event later in the evening. The menu includes your choice of entree: Grilled Salmon fillet, grilled asparagus, and wild rice pilaf (favorite of Dave Roberts) or Char-grilled petit filet with whipped potatoes, and prima vera vegetables (favorite of Randy Stine). It also includes a mixed green salad and apple pie with cinnamon ice cream. VIP Platinum Dinner Packages can be purchased at the ticket office or online at 
www.ticketmaster.com
. Group member Dan Ponce put the ensemble together in the fall of 1996 at Indiana University in Bloomington, choosing "10 guys who happened to be good friends who also liked to sing." Choosing the members carefully for personality as well as vocal talent -- Randy Stine, Charlie Mechling, Jerome Collins, David Roberts and Walter Chase remain from the original lineup -- SNC set itself apart from other a cappella groups with its contemporary repertoire and dynamic approach, quickly headlining concerts both in Bloomington and on road dates. SNC recorded three independent albums, and John Mellencamp even invited the group to his home for a private performance. Since then, the group has gone on critical acclaim around the world, for their unique style. For more information about the show, visit
www.memorialcoliseum.com
.