"Be a party animal at an animal party!" reads the poster you'll see around town describing the Fort Wayne Children's Zoo's newest fundraiser,
Zoo Brew & Wine Too, Presented by Chase
.  On Friday, August 23 from 6 – 9 p.m. adults can enjoy the zoo with a new twist.  This after-hours event combines unlimited samples of local food, beer and wine, plus views of your favorite animals!  If sampling food and beverages from 50 vendors isn't enough to sway you, you'll also jam to the tunes of The Todd Harrold Band, James & the Drifters, and Ivory West.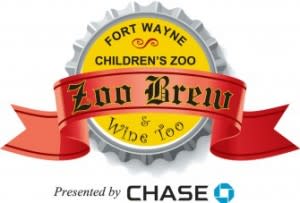 While this is the first time Zoo Brew & Wine Too is taking place in Fort Wayne, similar events have experienced huge success at zoos all over the nation. "Fort Wayne, a city that absolutely loves its zoo, is a great demographic for this event," said Leslie Jablonski, Development Specialist at the zoo. Wendy Stein, a member of the committee planning the event, said that while the zoo is a great place for families, sometimes we forget how much fun it is for adults.  "The event is an opportunity for 'grownups' to experience the zoo in a different way," said Stein. If you can tear yourself away from the dozens of vendors long enough to catch a glimpse of the animals, you'll see bobcats monkeys, sea lions, and more.  Restaurants like Club Soda, Oyster Bar, The Olive Twist and many others will line the zoo paths, leaving plenty of space for viewing the exhibits.  "If you love the zoo and you love everything Fort Wayne has to offer in the culinary world, this event is perfect for you," said Jablonski. Tickets for Zoo Brew & Wine Too are going fast, so be sure to purchase yours soon!  Advance tickets are $40 for General Admission or $25 for Designated Drivers, with ticket prices higher at the door (if not sold out).  Every attendee's ID will be checked and no one under the age of 21 will be admitted.  The zoo encourages everyone to drink responsibly, so if you don't have a Designated Driver with you, make sure you have a local cab company on speed dial! Click
here
 to check out the complete vendor list and get more details about the event.  Vendors are being added daily, so check often to see which of your favorites will be at Zoo Brew & Wine Too.