Update: Check out our updated Farmers Market Directory. 
When Young Leaders of Northeast Indiana revived the historic Barr Street Market 8 years ago, no one could have predicted how large it would grow. The first year, it featured four vendors, and this year it has grown to over twenty, ranging from baked goods and produce, to ceramics and ice cream.
Open every Saturday from 9 AM to 1 PM, May through September, at the corner of Wayne and Barr Streets, the market is a producer-only market. This means vendors personally make or grow the products they sell, and every vendor is local as well. I love visiting the market. Since it is downtown, it makes me feel like I'm a part of the city - alive with the hustle and bustle of people and vendors. My husband and I live close enough to ride our bikes, which offers us a chance to spend time together and enjoy the trails.
For those outside biking distance the History Center offers free parking. It is also open to the public for free during the market, making for a great family outing opportunity.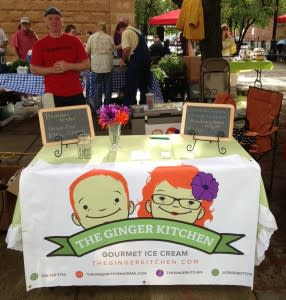 This year, my husband and I are vendors at the market, which provides us with a deeper appreciation for YLNI's efforts to organize the market each year.
We started our own business earlier this year and the market offers us the opportunity to get our products in front of a larger audience. Our goal is to make people happy and improve their quality of life through our products, and Barr Street is a great fit because its goal is to improve quality of life in our community, too. Make plans to head downtown soon. Barr Street Market won't disappoint.