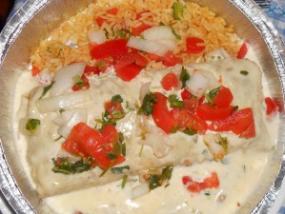 For long-time residents of Fort Wayne, going to Bandidos (say 'ban dee does') is a lifetime tradition. At first it was a place that resembled a Mexican presidio with stucco walls and dramatic paintings of turn-of-the-century bandits in sombreros. It also had traditional mariachi music piped in. Then, it turned into a party-like eatery with televisions everywhere, a parrot emblem and a "Better than Authentic" logo. Now, Bandidos is trying out a new style, labeling themselves " Fresh. Made Daily."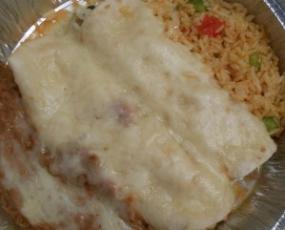 I like the new Bandidos website – it's simple but tasteful. The videos on the website are mouthwatering, from the descriptions of made-right-there beans to hand-chopped local ingredients. But the real question is this: Does Bandidos still produce local favorite dishes? Is the food still just as good?
Here's an analysis of some of their current take-out items: Chips and salsa: crunchy, white chips are lightly corn-flavored and have just a tinge of salt. The salsa still has lots of tomato with big chunks of tomatoes, onions and green peppers. It's mildly hot, something that makes your tongue tingle just a little. (Ask for extra salsa if you're doing take-out – it's better than bottle-brand salsas.)
Chicken Fajitas: strips of grilled chicken on a bed of fried onions. A companion tray of lettuce, tomatoes and onions, and shredded cheese comes with this entrée, along with three, small, soft flour tortillas. You can ask for sour cream and/or guacamole, on the side. The chicken is tender, perfect for rolling up into the warm tortilla. Use a little extra salsa from the chips to drizzle on a bit more color and spice to your fajita. If you're not keen about having fried onions with the meal, ask the Bandidos staff to switch out the onions for rice – the rice is tender and mildly seasoned with minced onions and traditional Mexican spices.
Loco Burrito: steak, onion and chicken burrito with chipotle sauce. Cheese sauce, onions and tomatoes are on top. Not too spicy, but it has some zing to it. Definitely a knife-and-fork dish, as the burrito is dripping with fillings and sauces! Rice and refried beans are the traditional sides, but you can order different sides if you wish. The Big Juan: it is huge. There's a mixture of ground beef, cilantro, lettuce, and tomatoes wrapped in a giant flour tortilla and drizzled with queso sauce. While it isn't fiery hot, there's enough pepper in it to keep you awake. This is another knife-and-fork dish – you probably wouldn't be able to get your hands around it – it's too hot! Refried beans and seasoned rice come with this dish. After this meal, the verdict is that Bandidos is still producing great dishes, just as tasty as they were before the new renovation began. There are five Fort Wayne locations open 11 a.m. to 10 p.m. (Monday – Thursday) 11 a.m. to 11 p.m. (Friday-Saturday) and 11 a.m. – 9 p.m. (Sunday). Eat in or call ahead for takeout – you won't want to miss this dining experience! you can find a Bandidos near you by checking out Visit Fort Wayne's dining page.