BakerStreet Steaks, Seafoods, and Spirits has been one of my favorite dining spots since moving to Fort Wayne over a year ago. After being diagnosed with Celiac Disease (I cannot digest wheat/gluten) BakerStreet has risen to my number one stop for fine dining. I dined at BakerStreet shortly after starting a gluten-free diet. In fact, it was my first gluten-free dinner out on the town. I was a party of one so I sat at the bar accompanied by my copy of The Gluten Free Bible by Jax Lowell. The bartender approached and offered me a drink. I ordered a beverage and told him that I am a Celiac and cannot come in contact with wheat or gluten. The gentleman did not flinch or hesitate. He promptly handed me a menu and assured me that my request was not a problem. I opened the menu and happily read the new heading above the appetizer list: "GLUTEN FREE MENU: all items on this menu can be prepared with or without gluten." Just what the doctor ordered, quite literally.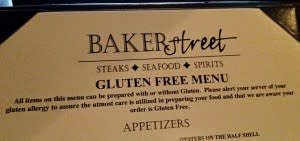 As I reviewed the menu, the bartender, who was busy, took time to chat, check on me, and offer to place my order at a slower pace since I was enjoying a book. I love that kind of service. Just because I am eating alone does not necessarily mean I want to eat fast. BakerStreet offers an comfortable and friendly yet sophisticated environment. It is perfect for a date, celebration, or business meal. It also works just fine for a quiet dinner for one. The selection at BakerStreet ranges from vegetarian options to surf and turf and a sixteen ounce New York strip. I started with a spinach salad, followed by a twelve ounce New York strip au poivre with steamed broccoli. The salad arrived and was fresh, crisp, and included ripe sweet strawberries. The aged balsamic vinegar dressing provided the perfect amount of tang to compliment the sweetness of the salad. I enjoyed it very much. The steak arrived according to the requested timing. The meat was cooked to a lovely medium rare and the peppercorns were ground just right so that the au poivre preparation was not overwhelming. It was a great version of my very favorite steak meal. However, the highlight came next. Dessert.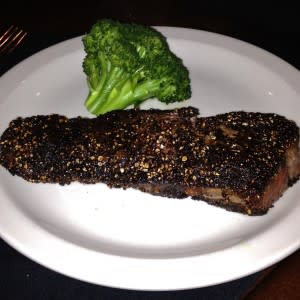 As a Celiac, desserts can be scary. This dessert, however, was anything but. The offering was a flourless chocolate cake with raspberry sauce and whipped cream. It was beautiful and delicious. It was so good that I saved half for the following day's breakfast!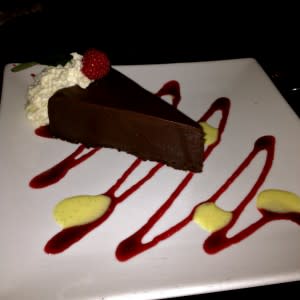 I was once again impressed and completely satisfied with my BakerStreet experience. It is lovely for those who enjoy wheat and those, like me, who do not. BakerStreet is located at 4820 N. Clinton Street just north of Coliseum Boulevard. Fine food is served Monday - Thursday, 11:00 a.m. to 10:00 p.m. and Friday-Saturday, 11:00 a.m. to 11:00 p.m.