This post is one in a series of Fort Wayne's favorite celebrities: the Bad Apple Dancers! Click here to meet the rest of the bunch!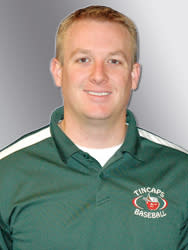 Hopefully you're making plans to attend a Tin Caps baseball game this summer. In case you need more incentive, here are some personal answers from Tyler Baker, one of the team's famous Bad Apple Dancers, about his favorite likes of Fort Wayne.

Hometown/State:  Columbia City, Indiana Years working for the Tin Caps:  2013 will be my 5th year with the organization and my 4th as a Bad Apple Dancer.
Favorite Fort Wayne restaurant: Ziffles Rib Bar
Favorite place to relax in Fort Wayne: This usually involves my making a trip to Lowe's to get supplies for projects around the house.
Favorite thing to do in Fort Wayne—other than dance on Parkview Field: Anything that involves spending time with my new wife.
Favorite store/shop:  I'm not really sure. I like to spread my money around to everyone in the economy!
Favorite Fort Wayne park:  Lakeside Park
Favorite Fort Wayne summer festival:  RibFest
Favorite place to go for a burger and fries in Fort Wayne:  Don Hall's Big Buster
Favorite concert venue in Fort Wayne:  The Embassy
Favorite place to go for ice cream in Fort Wayne:  Atz's
What do you like most about Fort Wayne?  I enjoy the small town feel even though Fort Wayne is a big city.
To order tickets for Fort Wayne TinCaps Baseball at Parkview Field call 260.482.6400 or learn more here.