This post is one in a series of Fort Wayne's favorite celebrities: the Bad Apple Dancers! Click here to meet the rest of the bunch!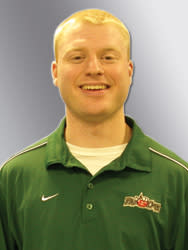 Isn't Fort Wayne lucky to have talented dancers in its midst? I'm talking about the Bad Apple Dancers of the Tin Caps ball team! Brent Harring, aka 'Rizzle', is one of the Fab Four. He gives us his take on Fort Wayne's best places to go for a good time. Hometown/State: Milwaukee, Wisconsin Besides working as a Bad Apple Dancer, I'm also a ticket sales manager for the Tin Caps. This will be my 6th season
Favorite Fort Wayne restaurant? Pint and Slice
Favorite place to relax in Fort Wayne? The Deck when it's nice out, Dash-In in the winter
Favorite thing to do in Fort Wayne: Other than dance on Parkview Field!? Run the trails on the Rivergreenway.
Favorite store/shop? Stoner's for our Friday theme night costume ideas
Favorite Fort Wayne park? Lakeside is awesome!
Favorite Fort Wayne summer festival? Real close between Rib Fest and German Fest.  I'm approximately 63% German though, so I'll go with that!
Favorite place to go for a burger and fries in Fort Wayne? Flanagan's, anything on that menu is fantastic!
Favorite concert venue in Fort Wayne: The Embassy, though Snoop Dogg at Pierre's in 2010 was probably the greatest concert I've ever been to in my entire life.
Favorite place to go for ice cream in Fort Wayne? Yo-Yo's
What do you like most about Fort Wayne? Anything and everything that happens downtown! I live, work, and play downtown and you will find me here 95% of the time!
Thanks, Brent! To order tickets for Fort Wayne TinCaps Baseball at Parkview Field call 260.482.6400 or learn more here.