This year celebrates the 70th anniversary of the end of WWII. To gain some perspective into what it was like in Berlin prior the war's beginning in Europe in 1939, plan to attend The Civic Theatre's latest production, Cabaret.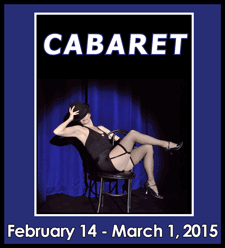 Cabaret's plot is set in the early 1930's in Germany's capital city. Hitler was already on the scene as a rising political leader, although violence was part of his regime and would grow increasingly so. A young writer Cliff Bradshaw visits the city, hoping to be inspired to create a best-selling book. He meets a singer at a questionable locale called the Kit Kat Klub. Bradshaw and Sally Bowles develop a romance that is predictably doomed with overtones of the rise of the Third Reich ever looming. Cabaret has a long history of fame, first based on a book written by Christopher Isherwood. It was adapted as a successful 1966 Broadway play and later a 1972 film by the same name.
The play won a Tony Award for Best Musical in 1967. The film for Cabaret won the Academy Award for Best Director (Bob Fosse), Best Actress (Liza Minelli), Best Supporting Actor (Joel Grey) and five other technical awards. Songs from the score include "Willkommen," "Don't Tell Mama," "Cabaret" and "Tomorrow Belongs to Me."
Note: This play contains strong adult language and deals with topics of sexuality.
The Civic's production will be directed by Phillip H. Colglazier. If you've never been to the Civic, plan to attend sometime this season for one of their many shows. The Civic is a prize in Fort Wayne with its 663-seat auditorium. I've attended concerts and plays there and enjoyed the gallery where intriguing pics and other exhibits are often on display. Show times are:
Saturday, Feb 14 8:00 PM
Sunday, Feb 15 2:00 PM
Friday, Feb 20 8:00 PM
Saturday, Feb 21 8:00 PM
Sunday, Feb 22 2:00 PM
Friday, Feb 27 8:00 PM
Saturday, Feb 28 8:00 PM
Sunday, Mar 1 2:00 PM
You can purchase tickets online or at the Box Office, located at the main entrance of the Arts United Center, 303 East Main Street, in downtown Fort Wayne. Tickets may also be purchased at the performance venue one hour before show time. Group pricing, discounts and other information are available at request.To purchase tickets by phone or to get more information, call (260) 424-5220.