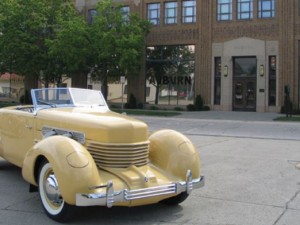 Class. Innovation. Speed. Beauty. Luxury. These are all words used to describe some of America's most classic cars, the Auburn, Cord, and Duesenberg.   F. Scott Fitzgerald understood the timeliness as he wrote The Great Gatsby. 
Baz Luhrmann knew just how to bring "the big yellow car" to life in his 2013 revival of The Great Gatsby.  He selected a 1929 yellow Duesenberg to steal the show as DiCaprio maneuvers the streets without a care in the world.  He also wrote a 1933 Auburn in as "an extra".  No other vehicles could demonstrate the opulence Luhrmann brings to life in the film. Each year, the Auburn Cord Duesenberg Festival brings the fantasy to reality at its annual festival to take place August 29-September 1. 
Get up close and personal with these beautiful works of art as they line the streets of Auburn, IN.  You'll want to attend the entire festival with so many great events happening throughout the Labor Day weekend.  Here some of the great "can't-miss" events at the festival this year!
6th Annual "The Auburn Auction" Preview by Worldwide Auctioneers August 29th-31st - 9am – 5pm National Auto & Truck Museum of the United States (NATMUS) 1000 Gordon M Buehrig Pl, Auburn. Open to the Public! Auction Business Office Open for Bidder Registration. $7 Museum general daily admission (9am to 5pm). $10 Daily – Evening Auction admission (after 5pm). $25 VIP Weekend Pass (Includes Thursday, Friday & Saturday general admission to the Museum and Auctions, limited seating) – admission for one and no catalogue. $75 Auction Catalogue (Includes Two VIP Weekend Passes). $150 Bidder Registration (Includes one Catalogue & Two VIP Weekend Passes). Children 6-12 daily $4. Under 6 FREE.
Auctions America by RM  presents "Auburn: A Labor Day Tradition" Collector Car Auction with Swap Meet and Car Corral by Carlisle Events August 29th-September 1st 
Attractions for the entire family from celebrity autographs, monster truck rides, the "Decoliner" and much more. Located at the Auburn Auction Park just off I69 at 5536 County Road 11A. Full Event Pass $40, Daily $15 (Wednesday is Free Admission) Children 12 and under admitted free with adult. Gates open daily at 8:00 a.m 7th Annual Garage Cruise Sunday, August 25th, noon-4pm; Visit the garages of local automotive enthusiasts for a behind-the-scenes look at their car and truck projects and memorabilia. New this year will be a scavenger hunt for school agers attending the tour as a chance to explore their community and learn about cars.
38th Annual Hoosier Tour
Tuesday August 27th-Thursday August 29th, Destination Kalamazoo Michigan; The Hoosier tour welcomes a maximum of 50 Auburns, Cords or Duesenberg a traveling tour to promote the festival in surrounding communities and enjoy a variety of fun activities. The tour arrives back at the ACD Automobile Museum on Thursday at 11:45am with a performance by the Dixieland Band. Free to spectators
Kick-Off Luncheon/Celebration Thursday August 29th– 12pm Willennar Hall, ACD Automobile Museum, Reservations, $15.00 per person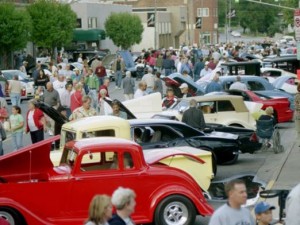 ACD Automobile Museum Benefit Extravaganza - 6pm ACD Automobile Museum, Reservations $150/ person (Jacket required)
NATMUS Sausage Breakfast August 30th- 7-10 am NATMUS North parking lot, donation
ACD Club Swap Meet August 30th- 7 am to Noon    West lot of ACD Automobile Museum, Free
Ladies of ACD Tea "Vintage Treasure Sale" August 30th- 8 to 11 am  ACD Automobile Museum, Museum admission required
Downtown Cruise-In Courthouse Square – 1pm- TBD $10 vehicle, Spectators free. Vehicle parking and registration will begin at 1:00
Sundaes on Friday Ice Cream Social Friday August 30th- 5pm to 8pm    Main Street –  near 7th Street, $1/scoop Friday August 30th – 6pm 
Courthouse Square Speakeasy 2013 Friday August 30th – 5pm – 11pm Auburn Moose Family Center, 10th & Main. Food & Spirits, Guests Welcome
Kruse Foundation Pancake & Sausage Breakfast Saturday August 31st and Sunday September 1st- 7 – 11am National Military History Center, 5634 C.R. 11A $6-Adults, $3/Children 4-12 years old
56th Annual Auburn Cord Duesenberg Club Car Show Saturday August 31st- 8am to 1pm Come see 300 classic cars in beautiful Eckhart Park, Adults $5, Kids free. Children 3 & Under Free, Free Museum Admission with breakfast ticket
Crafts, Antiques & Flea Market Saturday August 31st- 9am to 4pm DeKalb Co. Fairgrounds, 708 S. Union St. Auburn
Duesy Walk (American Volkssport) Saturday– 8 to 11am 5 & 11K Walks Begin and end at DeKalb Health, Start anytime between 8 & 11 and end by 3. Free to public, AVA Members $3 for AVA credit
Auburn Historic Tour Saturday– 9am to 4pm Tours leave at 9, 10, 3, 4 p.m. (approximately 45 minutes), Leave from DeKalb County Fairgrounds Parking Lot, $5/person
43rd Annual Tri Kappa Antique Show and Market Saturday and Sunday – 9am to 5pm DeKalb High School 3424 CR 427, Waterloo, $5, Children 12 & Under free
Pre-parade Activities Saturday – 10am Courthouse Square, DeKalb High School High Octet & Community Band- New this year the Fort Wayne Children's Choir
Auburn Cord Duesenberg Festival 5K Saturday– 12pm Begins at 16th & Main Street and follows much of the parade route finishing at the Courthouse. Register by Aug.17 to receive $5 off registration and t-shirt, or after Aug. 17 for $20. Visit www.lakewoodpark.org for registration form.
"Parade of Classics" Saturday– 1pm Nearly 300 ACD cars parade through the streets of Auburn with review at Courthouse Square
33rd Annual Arts & Craft Show Sunday– 9am to 4pm Downtown Business Assoc. Downtown Auburn, Free Admission, Vendor Information please visit the Downtown Business Association website.
5th Annual Outdoor Flea Market & High's Chicken Sunday September 1st – 8am to 4pm DeKalb County Council on Aging Heimach Senior Activity Center, 1800 E. 7th St. (Just East of Hospital) Free admission, Rental space (20 x 20) $35.00. High's Chicken Bar-B-Q, Desserts by Council on Aging