We've all heard the old adage, "They don't make 'em like they used to." While you may debate the validity of that statement at times, I think we can all agree that as far as cars go, there is no question. Come out to celebrate the art of classic cars at the
Auburn-Cord Duesenberg Festival
. The ACD Festival will run from August 28-31. The world's greatest celebration of classic cars features a car show, a 5k race, a two giant auctions selling hundreds of collector cards, a beer tent, a parade, three outstanding museums, and more! This event offers such a variety of activities there is no shortage of ways to entertain the whole family. With so many different goings-on, it can be hard to pick which ones to attend. Here is a list of a few must-sees. Start the weekend off right with a night at the
Speakeasy
. Step back in time on Friday night, August 29, from 5:00 - 11:00 pm at the Auburn Moose Family Center on 10th and Main. The event is free to attend but food and spirits are additional. This night promises to be a night of fun, great food, music, fellowship, and even better drinks!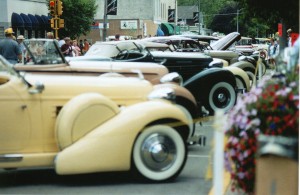 For something a little more family friendly, come out Saturday, August 30. Start out with a visit to the
Club Car Show
, which is open from 7:00 am - 1:00 pm at Eckhart Park. The cost is only $5 for adults and $3 for children; children 3 and under are free. Saturday also offers a special treat for the kids. From 9:30 - 11:00 am there will be kids games and fun in Eckhart Park near the Club Car Show. Or, let them go wild at the
Ultrazone Activity Area.
The play area will include Euro bungee, a rock wall, and a bounce house! Make sure and grab lunch while you are there too from some of the great local food trucks. Trucks will be parked at Courthouse Square from 11:00 am on. Another must-hit is the
Arts and Crafts Show
on Sunday. This is a little more laid back, so walk through the vendors and admire the art and shop at your leisure. The fair will run from 9:00 am - 4:00 pm in downtown Auburn. Nearly 100 vendors will be present from all disciplines including pottery, stained glass, ceramics, wood, and more! It's easy to spend the day and even more at the ACD Festival. Head down for some great family fun and a unique experience unlike any other!