The real-life temple town of Asakusa, Japan, is renowned for its preservation of traditional festivals, crafts, and its wide Japanese cuisine.  Luckily for us here in Fort Wayne, we can experience a glimpse of Japan in our own city, in two Asakusa Japanese Restaurant and Sushi Bar locations on the north and south sides!
I visited the Jefferson location for the first time and immediately fell in love with the ambiance!  The calming, traditional Japanese music in the background, the beautiful décor and the friendly hostess were all what I needed to brighten my day.  There were beautiful photos and traditional Japanese pictures on the wall, and the dim lighting at the entrance helped relax me, too.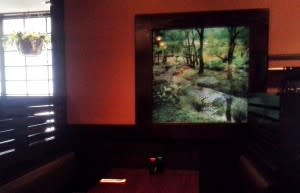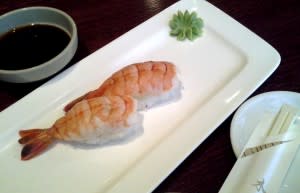 I arrived around 1:30, after the lunch crowd, but there were still several other customers in the dining room.  Everyone seemed to be enjoying their meals, and more customers trickled in as I ate my meal. The menu items were well-explained and even provided images of some of the food items, which was very helpful, since I hadn't eaten much Japanese food before.  Asakusa has been named #1 Best Sushi Restaurant in Fort Wayne three times, so I decided to give sushi a try.  I ordered two pieces of Ebi Sushi (sushi with cooked shrimp), which was pretty good, but I would like to try the Tamago Sushi (egg sushi) next time.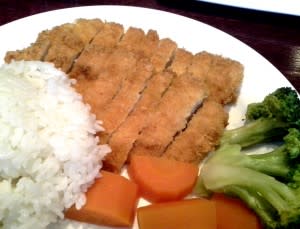 Something I appreciate about Japanese food is that it is mostly very light, so you usually don't feel painfully full after a full meal.  I then also ordered the Chicken Katsu Luncheon, which contained a breaded chicken sandwich with soup, a house salad, and a serving of rice of my choice.
This was a pretty large portion, so I ended up taking half of it home with me. The service was great!  I don't say this about every restaurant I frequent, so I applaud Asakusa's staff for the prompt seating, service, and smiles!  I will definitely return again soon!
You can visit Asakusa at one of their locations below, online here, and on Facebook here. 
Jefferson Location: 6401 W. Jefferson Blvd. 260-432-9888 
Swing by for Sushi Happy Hour at the Jefferson location Monday – Friday: 2:30 – 4:00.
Hours of Operation:
Open Monday – Thursday: 11:00 a.m. – 9:00 p.m.
Friday: 11:00 a.m. – 10:00 p.m.
Saturday: 11:30 a.m. – 10:00 p.m. 
Closed Sunday  
Lima Road Location: 6224 Lima Rd. 260-490-6888
Hours of Operation:
Monday – Thursday: 11:30 a.m – 2:00 p.m. and 4:30 p.m. – 9:00 p.m.
Friday: 11:30 a.m. – 2:00 p.m. and 4:30 p.m. – 10:00 p.m.
Saturday: 11:30 a.m. – 3:00 p.m. and 4:30 p.m. – 10:00 p.m.
Closed Sunday ​