Have you met HOLGA? Diana? No? Well, here is your chance to enter the interesting, unique, and colorful world of the toy camera.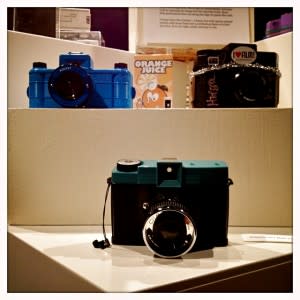 Plastic cameras first appeared on the photography scene in the 1960s, bringing photography to the masses. Now these cameras have developed a cult following and are producing award-winning photographs.
One of Artlink's current shows is Plastic Fantastic: A Toy Camera Extravaganza. This show features the work of artists Cara Lee Wade, Daniel Dienelt, Jason Swisher, Theresa Winans Thompson, Bambi Guthrie, Lilliana Hoag, Holly Clabaugh, Nicole Croy, and Josef Zimmerman. The curator of this show, Cara Lee Wade, describes the show as "a photography exhibition featuring local artists who revel in analog 'toy' cameras and the unique images that these low-fi vessels create." The photography ranges from experimental, Daniel Dienelt actually takes his camera apart, to more traditional and Americana style work by Cara Lee Wade, Jason Swisher and Theresa Winans Thompson. One of the most interesting features of this show is the opportunity to learn about the cameras. The exhibit features a display of plastic cameras used by these artists in the show. Each camera is accompanied by the artists' descriptions of how and why they use the camera. Some might consider the cameras themselves as art. The show opened at the Artlink Gallery at 300 East Main Street in downtown Fort Wayne on January 25, 2013, and closes on February 27, 2013. Gallery hours are Tuesday - Friday 10:00 a.m.-5:00 p.m., Saturday 12:00 noon-6:00 p.m., and Sunday 12:00 noon-5:00 p.m.