One of the many events Fort Wayne has to offer during Indiana's bicentennial year celebration is the Bicentennial Exhibit at Artlink Contemporary Gallery. This family-friendly exhibit displays 200 pieces of art including sculptures, paintings, and photographs that represent Indiana. While many of the artists reside in Fort Wayne and surrounding cities such as Columbia City, New Haven, and Leo, there is also artwork from cities such as Goshen, Muncie, and Indianapolis. Outside of Indiana, some of the artwork displayed comes from artists who live in Chicago, Grand Rapids, and San Francisco.
The exhibit includes images of Indiana landscapes, state parks such as Brown County and Pokagon State Park, or maps of Indiana. During my visit, I found four art pieces that I thought were a good representation of Fort Wayne.
Fort Wayne Bicentennial Representation
Powers Hamburger Shop: Powers is a small hamburger restaurant that is a staple in downtown Fort Wayne. Terry Ratliff's oil painting is a perfect depiction of the restaurant at sunset.
 
Lincoln Bank Tower: the Lincoln Tower resides downtown and is one of the largest buildings in Fort Wayne with 22 floors. Maurice Papier's mixed media picture shows the tower at nighttime surrounded by many colors.
 
Welcome to Downtown: this picture displays the entrance into downtown Fort Wayne. Terri Buchholz's oil painting captures a perfect nighttime view of the 'Welcome to Downtown' sign and sights one sees as they enter downtown.
 
Bill the Lion Tribute: Bill the Lion was a beloved lion at the Fort Wayne Children's Zoo that passed away this year. Tammy Davis' mixed media piece shows Bill the Lion at the center of the piece with other iconic pictures of the zoo and the words 'Good Life' at the bottom.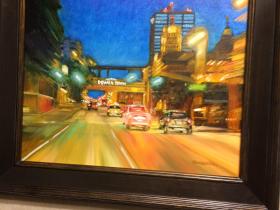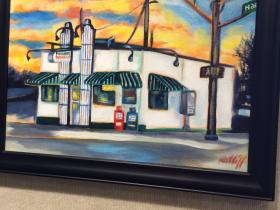 The Bicentennial Exhibit lasts until Wednesday, October 19th. Admission for members is free, and general admission is $2.
Hours
Tuesday-Friday: 10 a.m.-5p.m.
Saturday-Sunday: 12p.m.-5p.m..
To find more information about Artlink and this exhibit, check their website.