No doubt you've heard about the latest craze sweeping the nation; the paint and sip industry - An artist led, step by step painting instruction with friends, food and wine, where even the most artistically challenged of us can produce a respectable painting to hang on the wall after just a couple of hours.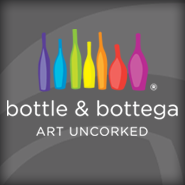 Bottle & Bottega is a Chicago born paint and sip company that has recently reached Fort Wayne and aims to prove that inside everyone is a master artist just waiting to be uncorked. They pride themselves on being different from the rest by offering more than just canvas painting. Drop by their studio at 2870 East Dupont Road and try your hand at painting on wine glasses, beer steins, ornaments, mosaics, mixed media, black canvas and murals too. And while you're there soak up the cozy living room style atmosphere and a wonderful selection of craft beers and wines at reasonable prices.
Bottle & Bottega may be the new kids on Fort Wayne's paint and sip block, having opened their studio just a few short months ago, but they are aiming high and dreaming big with an exciting concept that really puts the art in heart. Their aim is to host 100 fundraising art parties this year! And, having already raised money for the likes of Scan Inc., Forgotten Children Worldwide, Soarin' Hawk Raptor rehab, Allen County SPCA and Relay for Life they are already well on their way to achieving their goal.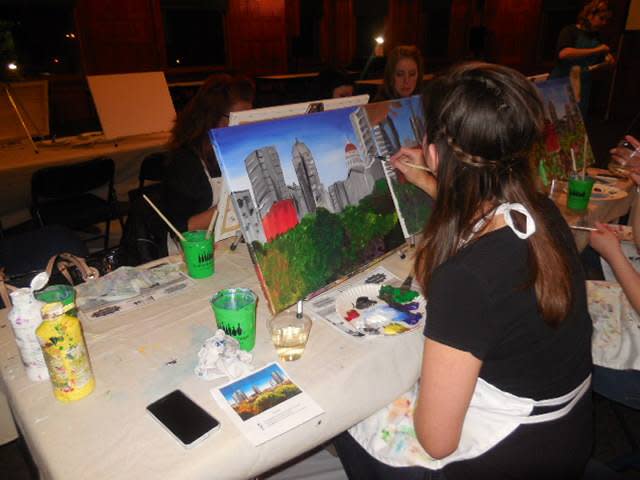 Bob Lebamoff, co-owner of Bottle and Bottega Fort Wayne, lost his wife to breast cancer four years ago and in her honor started the J I L Youth Sports Foundation to keep kids in the game of sports when a parent is going through a terminal illness. He understands the difficulty of finding unique ways to fundraise and says that in his efforts to raise money for his foundation "I'd ask for $500 and get $50, ask for $50 and get $5, ask for $5 and get a hotdog."
A Bottle & Bottega art party is a unique way to attract both new and past supporters because it's so much more fun than a bake sale. Who wouldn't want to attend a fundraiser where you capture your inner artiste with a paintbrush in one hand and glass of wine in the other?
Do you volunteer for a non-profit, have kids in the school baseball team or have a favorite charity you'd like to help out? Give Bottle & Bottega a call at (260) 494-1020 or contact them here and ask how you can be one of their 100 fundraisers this year!