This post is part of our Three Rivers Festival feature series. Click here to view all Three Rivers Festival posts.

We live in a world of lists – lists of things we need to do, lists of things we want to do, lists of things we should do – and sadly, most of us will leave behind lists unfinished. But if I may, I'd like to suggest something that can be added to your list and checked off almost immediately, something that can make your life immeasurably better. That thing? Owning a piece of original art. You don't have to visit a major metropolitan gallery to do it, either. All you have to do is go to Art in the Park, an official Three Rivers Festival event. I grew up here in Fort Wayne, Indiana, so the Three Rivers Festival is nothing new, but it's no less important to me now than it was to me when I was a kid. I have fond memories of walking around downtown with my family, the sun shining, filling up on food that probably wasn't good for me (wait, that was just last year…), and enjoying the many events the festival had to offer. Honestly, though, I've only come to enjoy Art in the Park recently. As a kid, the only art I cared about was in comic books, and while some of my previous posts will tell you that hasn't changed much, I certainly have a wider appreciation for art as an adult. And Art in the Park offers a wide variety of art, including painting, sculpture, photography, and jewelry, that is produced by artists both local and national.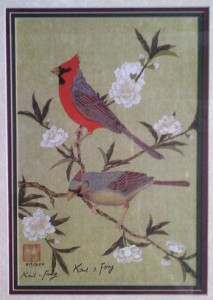 In 2008, the first year I went to Art in the Park, I discovered Karl Feng, a Taiwanese-born artist from Cincinnati, Ohio, who specializes in watercolors. That year I bought a numbered print of a pair of cardinals. The next year I bought a floral print. Last year I decided to buy an original piece, a tranquil mountain landscape. There is something special about knowing the artwork hanging on your walls (or sitting on your shelves or perching in your garden) is unique, that only you possess it. Think of the feeling you get walking into a museum, surrounded by the labor of artists whose work has survived years or decades or centuries. Now imagine that feeling in your own home. I hope to add another Karl Feng watercolor to my collection this year, or maybe some new artist's work will catch my eye. Owning original art isn't a luxury meant just for the wealthy; it's something everyone can do. Whether it's a small framed photograph of a flower, or an original handcrafted necklace, you can own one artist's effort to make the world a little more beautiful. Visit Art in the Park, a Three Rivers Festival event, on July 9, 2011, from 11:00 a.m. – 6:00 p.m., and July 10, 2011, from 11:00 a.m. – 5:00 p.m., at Freimann Square in downtown Fort Wayne. Admission is free.