Okay, so sometimes I can argue that my fourth-grader is sneaking up on me with her quick wit and impeccable memory, but is she smarter than a Zoo Keeper? Wow, the absolute challenge! I may know the animals at the zoo, I can read the plaque at the cage and explain to my children what Hominoidea, Araneide and Carpet Python are, and I think I know why these animals are so rare and amazing. But am I smarter than a Zoo Keeper? Well, surely I can lead them through the Indonesian Rainforest, where you encounter a domed jungle filled with colorful birds, turtles, and frogs enjoying their tropical paradise — complete with a waterfall. Traveling the easily-accessible jungle paths, enveloped in a world of tropical plants, towering trees, orchids, and more, I am on it!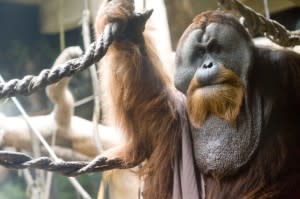 And of course I would never want our kids to miss the orangutans, where they can get nose-to-nose with the big red apes of Indonesia — the endangered Sumatran orangutans. But no way am I smarter than a Zoo Keeper. I am (on a good day) most definitely smarter than a fourth grader - but there is so much I still don't know about our great zoo. I actually have no clue how these animals are fed. Does someone stick their hand "in there"? Do those brave Zoo Keepers actually clean "that" up? How on Earth do they get the Sea Lions to perform so many awesome stunts? Okay I admit it, I am in awe! How DO those Zoo Keepers train, attend to and befriend all of the exotic animals at the Fort Wayne Children's Zoo? What does it take to be smarter than a Zoo Keeper? It's your (okay...our) chance to find out!
Are You Smarter than a Zoo Keeper Day at the Fort Wayne Children's Zoo
Learn more about the work of a zoo keeper and test your animal knowledge against the pros at activity stations throughout the zoo.  Activities run from 10:00 AM – 3:00 PM and are free with zoo admission.
July 20, 2012