It's hard to believe, but it's comic convention time again here in Fort Wayne. This is the third year I've covered our local con, and while it wasn't the first post I wrote for the Visit Fort Wayne blog, it was close enough that I use it to mark my anniversary with the organization. For the last three years, the Summit City Comic Con has been the place to meet locally- and nationally-recognized comic creators and collect original artwork and prints. Last year I snagged a wicked cool commissioned Daredevil sketch and a hand-signed fantasy art print, both of which are now hanging on my wall at home. Along with providing great artwork, it gives comic and toy collectors an opportunity to track down back issues and collectibles (like Minimates, my toy addiction).

This year, a new, refocused convention will take its place – the Appleseed Comics & Arts Convention (Appleseed Comic Con for short). The con will be held Saturday, May 11, 2013, from 10:00 a.m. to 6:00 p.m. at the Grand Wayne Convention Center. One of the Appleseed Comic Con's purposes is to spotlight the inclusivity of the comics community. Seriously, even if you don't know a soul at the con, you can make friends very easily and very quickly. Heck, it's a week after Iron Man 3 opens, so that'll give us all something to talk about. There's also a concerted effort to reach out to young fans. The comic book industry, much like the video game industry, has grown up with the kids of my generation. Comics today are more "adult" – and, sure, that does mean that there may be sex and violence and salty language. But it's not just that. The themes comics today deal with are often more adult too. It's not just about Spider-Man stopping the Vulture from robbing a jewelry store anymore1. And that's not to say there aren't comics for kids, but most "mainstream" books really aren't. When I go to the comic shop on Wednesdays, it's mostly folks my age and older (I'm 36). The Appleseed Comic Con, like the industry as a whole, is trying to make sure that kids today get the same excitement from comics as we did when we were young. So what's new? What should you be looking for? Well, Marvel's big "universe-changing" event, Age of Ultron, is currently just past its halfway point. What changes will we see when it's finished? Only a few people know, as Marvel has kept details tightly under wraps. Hot on the heels of Age of Ultron is Infinity. Starting later this summer, it features Thanos, the villain teased at the end of 2012's blockbuster movie Marvel's The Avengers. DC's "New 52" is approaching the start of its third year, and this summer will see Trinity War, a crossover running through Justice League, Justice League of America, and Justice League Dark. What are the best books I'm reading right now? Well, it's a great time to be a fan, which means I'm reading a lot. I won't list them all, but here's a sample of the best of the best: Animal Man, Green Arrow, and Swamp Thing (DC); Avengers, New Avengers, Uncanny Avengers, and Hawkeye (Marvel); The Massive (Dark Horse); & East of West and Saga (Image).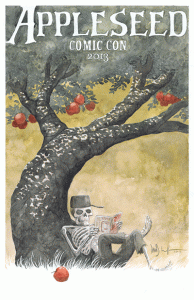 Be sure to attend the Appleseed Comic Con. Tickets are $10 each. If you pre-order yours at www.appleseedcon.com, you'll get a copy of the Dave Wachter-drawn convention poster and be entered for a chance to win an exclusive print. See you there! 1 Don't get me wrong – adult themes aren't new to comics. A fine example of this is the classic Iron Man story "Demon in a Bottle," published in 1979, which dealt with Tony Stark's alcoholism.