It's too early to tell if the groundhog will see his shadow or not this year, but it's not too early to register for the annual Groundhog Open, a winter golf tournament held right here in Fort Wayne, Indiana. This year's event is February 6 and will include a whole day's worth of fun… including a special 19th hole! This event is open to the public and is an excellent business networking event. The Groundhog Open benefits downtown Fort Wayne beautification efforts and the Downtown Planter Program.
The Groundhog Open will begin at the Grand Wayne Convention Center, 120 W. Jefferson Blvd., conveniently located downtown near many of the area's most robust businesses. The course is a beautiful design that takes golfers through several of Fort Wayne, Indiana's most-loved buildings: the Historic Embassy Theatre/Indiana Hotel, the Hilton Hotel and the Courtyard by Marriott. Each hole showcases a local sponsor. The tournament features four "flights" of golfers so that players are not rushed through the course. Flights take place at 8:30 a.m., 11 a.m., 1:30 p.m. and 4 p.m.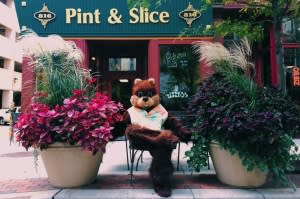 Insider Tip: Early birds get the worm on this course. Those who sign up for the 8:30 a.m. slot will be able to meet Duke Butler, Tournament Director of the Hotel Fitness Championship, who will speak at a tournament opening breakfast event. Butler will share his past successes, goals for the 2014 tournament and the event's history.
A special closing ceremony and 19th hole "after party" will take place at the Courtyard by Marriott after the final flight of golf wraps up. The event also features lunch for all golfers. A cash bar will be available after 1 p.m. as well. Registration is $100 for single players and $400 for teams of four. You can register here. For more information, including how to sign up, visit the Groundhog Open online.