A Three Rivers Festival favorite, the Chalk Walk, returns once again this year to the Three Rivers Festival in Fort Wayne, Indiana on July 12 and 13. This outdoor art display typically draws 22,000 viewers annually. Some come and watch as artists create their works. Others wait until the second day when most of the art has been drawn and admire the finished works in their entirety. Whichever you choose, a visit to the Chalk Walk needs to be on your summer bucket list.
This event derives its roots from the Italian tradition of street painting. Artists reserve their space prior to the event and use pastels, chalk and in some cases liquid chalk paints to create their works of art. The only catch here is unfortunately these works are short-lived. Be sure to take a look before the next rain comes this summer and washes them away.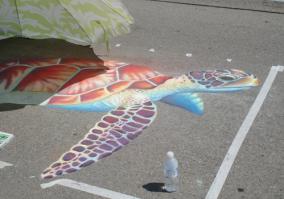 The Chalk Walk display is located right outside the Fort Wayne Museum of Art, located in the heart of downtown at 321 Main Street.  The Chalk Walk also contains a contest component. Prizes will be awarded following a vote by a panel of judges. Artists are creating works that align with the following categories:
Trompe l'oeil - French for "fool the eye"
FWMoA's 30th Anniversary in Downtown Fort Wayne
The Golden Age of American Bicycles
Depictions of FWMoA Outdoor Sculpture
Best Use of a Street Blemish (only for those with cracks and manhole covers in their square)
People's Choice (voted by the attending public)
Insider Tip: The Chalk Walk is only one small part of this annual city-wide festival since 1969. Three Rivers Festival is a wonderful way to spend your summer vacation. Plan a weekend or week-long trip to Fort Wayne today. Travel and planning tips are available on VisitFortWayne.com!