Heartland Sings, Fort Wayne's very own vocal arts company is ready to start its 21st season lineup. As an insider (I'm the company's full-time soprano), I'm already way too excited to keep the secret! Here's some of what lies in store for our next season of song.
Heartland Sings 21st Season
September 29: Karaoke Classics Live
We've done a Karaoke Classics concert before, but all of the songs were performed by the pros. This time we're inviting a handful of lucky audience members to join us onstage! Participants will get to choose a song to perform with the band and the Heartland Sings full-time vocal artists as backup. It's the perfect opportunity to pretend you're Whitney Houston.
Our first Jingle Bell Jazz concert last year was a smash success. We're bringing back this fun, jazzy night (featuring Heartland Sings' five full-time vocal artists) as a contrast to the beloved Spirit of Christmas, the ethereal choral concert that takes over the Allen County Courthouse every year.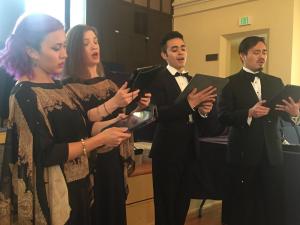 I'm so excited to finally be performing a full opera in Fort Wayne! I'll be singing the role of Adele, the feisty maid, in this hilarious work about an opulent party gone awry. Although the original music is in German, we'll be singing in English so the audience is in on the joke.
Next year, our big season finale will include the Duruflé Requiem and the Chichester Psalms by Leonard Bernstein, as well as a brand-new commissioned work.