Want to escape the hustle and bustle of the city and escape to the country? Just a few minutes past Huntertown (20 minutes north of Fort Wayne) is Moose Lake Christian Craft Village. Right down the road from Country Heritage Winery, is a mini-town with everything – a church, a country store, and a restaurant.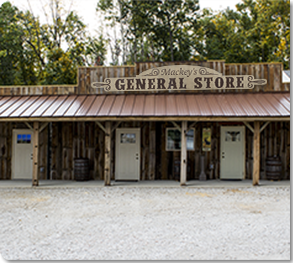 The village offers the perfect opportunity for fun with friends and family. Whether you want to get out of town for an afternoon, an entire day or the weekend, Moose Lake Christian Craft Village is your place.  Children and adults will enjoy exploring the shops, fishing the stocked pond, or relaxing on the beach. For families with young children, they will enjoy the farm animals and old-fashioned playground.  
Families and friends will enjoy a themed eating experience in the village's 1800s general store, Café Moose. The store offers a dining area and plenty of great food. For breakfast, Northeast Indiana's famous Rise 'N Roll donuts are on the menu, along with sausage biscuits, scrambled eggs and other fixings. For lunch and dinner, the restaurant serves Amish pizza, pork tenderloins, grilled cheese sandwiches, and a host of other home-style meals. 
To help celebrate the seasons, Moose Lake Lodge Christian Craft Village hosts fun days that enhance the visitor experience.
National Day of the Cowboy on July 23 - Families can enjoy cowboy music and entertainment on the village stage. Plus, the Soarin' Hawks birds of prey and special western crafts will be available for children.
Children's Pioneer Day on August 13 & September 24: Take your children to experience the sights and sounds of pioneer life in the 1800s with special crafts and games.
Moose Lake Fall Festival Fall on October 8 will allow children and adults to experience crafts, games and train rides through fall foliage.
Pumpkin Day at the Village on October 22 - enjoy carving your own pumpkin, a day full of fun games, and special trains.
If one day of fun is not enough, cabins are available. 
Location: 11330 East  500, South LaOtto, IN 46763. 
Hours:
 Monday - Friday 7:30am - 8pm
Saturday 8am - 8pm.