Kuehnert Dairy Farm kicked-off its annual Fall Festival on September 24. The festival runs Fridays-Sundays from now until October 23. At $8 per person, this is a ticket that offers a ton of value for the price.
You can make a whole day of the experience (or evening if you prefer). The festival offers thirty different activities. The flagship event is the thirty-acre corn maze with a built-in scavenger hunt. My kids and I explored the maze on a sunny Sunday afternoon, but it's open on Friday and Saturday evenings as well. Evening guests may bring a flashlight or purchase one at the main entrance. The maze is well-done and has a new theme each year. This year's theme was "Superheroes" and we had fun looking at the map as we walked through the different hero-themed patterns.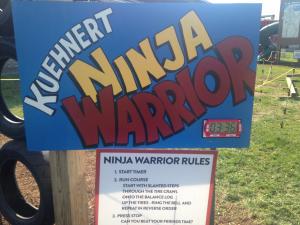 Other activities include a mini-train ride, a live animal meet-and-greet area where kids can pet a young calf, human-sized hamster wheel races, pumpkin checkers, and much more. My kids' favorite was the all-new Kuehnert Ninja Warrior obstacle course.
Mom's favorite was the hayride, which took us through the working areas of the farm. A recording explained everyday life on a dairy farm while our driver offered witty insight and answered all of our questions. It was a great agritourism experience and I gained a new appreciation for the hard work that goes into a gallon of milk!
And about the milk…come hungry because the Kuehnert family is ready to feed you! Of course, the menu features fresh milk, but the options don't end there. The food tent also serves up sandwiches, chips, hot dogs, s'mores kits for roasting, nachos, and ice cream. Prices are reasonable, no kidding. Each of my kids enjoyed a vanilla ice cream while we walked through the maze ($2 for a big portion). My taste-testers reported that it was the best ice cream they had ever eaten and, "tasted like powdered sugar." We also purchased a Mousetrap sandwich ($4) to bring home to dad. In case you haven't heard, the Mousetrap is Indiana's reigning champion of grilled cheese.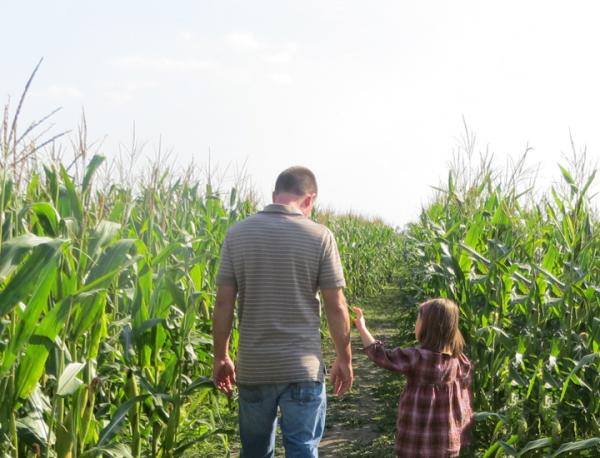 Insider's Tip: Grab a scavenger hunt card at the front entrance and bring it with you into the corn maze. Each completed card is worth one free pint of milk at the food tent!
Kudos to the Kuehnert family for the amount of fun they pack into this festival. It would be near-impossible for guests not to enjoy themselves. Take it from me, I'm lactose-intolerant and I STILL had fun. My favorite moment? Standing face-to-face with the gentle cows who help to nourish my children every day. It was a rare opportunity to appreciate and thank the livestock that I so often take for granted.
Hours of Operation:
September 24  – October 23 (weekends only)
Fridays: 6-10pm; Saturdays: 10am-10pm; Sundays: Noon-5pm
Admission:
$8 per person; Children 2 years old and under are FREE
Season Pass: $15 per person
$1 off admission of Service or Military Personnel, Veterans, and Boy/Girl Scouts