*Updated in June 2016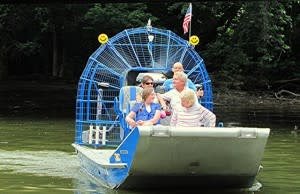 Though Fort Wayne is a long way from being a tropical state, Hoosiers can pretend they're in Florida for about 13 straight minutes of fun this summer, thanks to Mike Gasdorf and his Airboat 1 Services. Yep, that's right- you can ride in an airboat just like they do in the Everglades here in Fort Wayne! (Sorry, no alligator sightings here - you'll have to use your imagination for that!) Gasdorf offers these water jaunts at the dock of Don Hall's Gas House each Thursday, Friday and Saturday evenings throughout the summer. They begin at approximately 6 pm and ends around 9. Diners can eat at the spacious Deck overlooking the scenic water and wildlife. Up to 6 people can ride the boat at once, and it's an ideal way to celebrate occasions such as birthdays, anniversaries and even corporate events.
The boat travels anywhere from 24 to 28 miles an hour, according to Gasdorf, and is a ride good for families alike! There are all kinds of unique views of Fort Wayne from the water, and sightseers can travel under bridges enjoying the envious gazes of onlookers and motorists crossing the overpasses. Because the roar of the engine is loud, Gasdorf thoughtfully provides headphones for his clients, should they want a little ear protection.
"We go up river to the West Central Neighborhood and in the other direction to North Side High School. This gives people something to do downtown and it also helps bring awareness of how important our rivers are as a natural resource." said Gasdorf, a Churubusco resident who trailers his 1999 Alumitech Airboat to Fort Wayne.
A ride costs $20 per person. For more information you can call Mike Gasdorf at 260.417.3249, or send him an email at MGasdorf@frontier.com.
If you want to make a night of it, you can make dinner reservations at the Gas House by calling 260.426.3411. See you on the river!