You've probably heard the saying, "Christmas is for the birds."  Those uttering the phrase more than likely meant they were fed up with all the Christmas hoopla, but if you ask any bird lover they will tell you that Christmas really is for the birds – literally. If you're a bird lover and want to make the Christmas season one to remember for your birds, it's time to flock to Fort Wayne and visit Wild Birds Unlimited – the place to get the best in feed and feeders for the birds. Wild Birds Unlimited offers great products for birds of all shapes and sizes – and unique, eclectic gifts for the people who love them.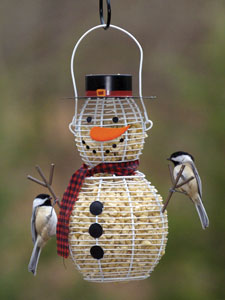 This year Wild Birds Unlimited has unveiled some new items for feathered friends. The first is the Snowman Seed Cylinder, a festive, jolly fellow made from safflower, sunflower chips and peanuts, and decorated with dried fruit, raffia, and a garland. The snowman is designed to feed from the Wild Birds Unlimited cylinder feeders and for the holidays there is a limited supply of red-roofed feeders available. Another new item this year for the winter birds is the TreeNutty Woodpecker Feeder, which is a combination of a resin bark panel along with a hopper to create the ideal feeder for woodpeckers. Not sure what to feed birds in the winter? Bark Butter Bits are the perfect food. Offer them alone in a feeder or mix them in with your favorite blend as a special treat for the birds in your neighborhood.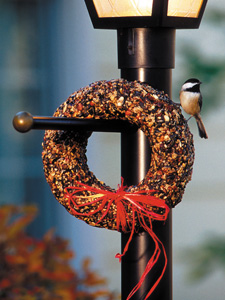 A popular item back for another season is the Wire Mesh Snowman Feeder, which is fun and festive and attracts a variety of birds or if you're partial to wreaths, the Cranberry Fare Seed Wreath is a convenient way to attract more birds to the backyard. Feeders are packed with pecans, peanuts, black oil and sunflower chips, safflower and cranberries to attract a large variety of birds. Bird lovers everywhere it's time to migrate to Fort Wayne and visit
Wild Birds Unlimited
in the Northcrest Shopping Center (801 Northcrest Shopping Center, 46805) …the birds and the bird lovers in your family will thank you!