Forget your favorite chain Mexican restaurant. You'll never want to go back after a visit at Agave's. Agave's, located on the north side of town at 212 E. Washington Center Rd., has a special place in my heart.  So, what's so great about this place?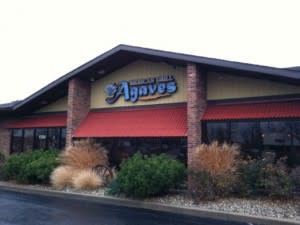 Here are a few reasons:
The food selection: From cerviche to lighter vegetarian options, even the pickiest eater will be able to find something on the menu. Both the lunch and dinner menus provide an extensive variety. The portions are generous, so you might want to share! Popular items include the Enchiladas Rancheras, Create Your Own Combo, and the Agave's Sampler Platter. Insider's Tip: Order the white queso. It is truly worth the calories. And the salsa is to die for, ripe with cilantro. Another impressive touch: the calorie counts for most items are provided, which makes it easy to fit in with a healthy lifestyle.
Price: You can order a dinner for under $10.00, excluding drinks.
Atmosphere: They have both a bar and family dining area. The atmosphere is low-key, but can be a bit loud at times because sounds bounces off the floor. Staff is very attentive and knowledgeable.
So, there you have it...a few yet important reasons to choose Agave's to satisfy your next Mexican craving.