Growing up in Fort Wayne, I often saw museum visits as an opportunity to get out of school.
Today I see our museums as some of Fort Wayne best assets. The African African-American Historical Society Museum is one of those great museums. I recently got a chance to revisit it with a fresh outlook and open mind. And I really enjoyed it.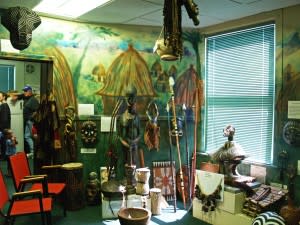 The museum is located in Downtown Fort Wayne and gives an in-depth look into African and African-American history starting from the time when Africans were brought to America as slaves through present day. Each room is dedicated to a specific part of history. There is one room that is dedicated to a traditional African village, one that is dedicated to African-American inventors, another that is dedicated to the protests, the sit-ins, and the movement to get rid of segregation during Dr. Martin Luther King's life, still another room is dedicated to the many "Firsts" for African-Americans in Fort Wayne. There is a lot to see and learn.
One of the best things about the museum is that it is a guided tour through the house-turned-museum. My tour guide was full of insight, not only because he grew up while much of the history was taking place, but also because he personally knew many of the people where were some of the "firsts." It gave a personal touch to a part of history that can sometimes seem so distant and removed.
So next time you are in Fort Wayne, and have a couple of hours to spare, stop by the African African-American Historical Society Museum, located at 436 East Douglas Ave. Fort Wayne IN 46802. It is open Tuesday – Friday 9 am- 1pm; Saturday 12 pm- 4 pm; Sunday by appointments only; and Closed on Mondays. Admission is $3 for children and $5 for adults.