While summertime has really blossomed in Fort Wayne, featuring festivals almost every week, live outdoor music events, TinCaps baseball, and activities on the river, there is no shortage of activities during the winter. Fort Wayne is home to several minor league sports teams that provide family-friendly fun even when the weather turns cold.
Fort Wayne Mad Ants
This season, Fort Wayne NBA-D League team The Mad Ants is celebrating its 10th season. Now affiliated with the Indiana Pacers, games include more than just basketball with audience participation games and entertainment. Many games have fun themes and correlating giveaways, as well. All events are hosted by the Memorial Coliseum and tickets start at just $5.50.
Fort Wayne Derby Girls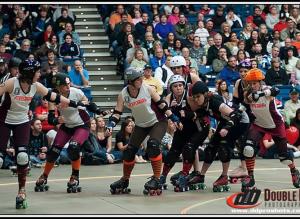 Now in their 11th season, The Fort Wayne Derby Girls kick off their home season this month at the Memorial Coliseum Expo Center. Hard hitting, family-friendly fun awaits as the all-female roller derby team takes to the track against opponents from other cities. The league features two teams, The Bomb Squad and the SWAT Team!
Fort Wayne Komets
But, nothing packs the main arena at the Memorial Coliseum quite like The Fort Wayne Komets, Fort Wayne's minor league hockey team in the East Coast Hockey League. Fans of all ages don their orange sweatshirts and (sometimes) crazy orange wigs to cheer on their hometown favorites. As the oldest professional sports team in Fort Wayne, dating back to the 1950's, you won't find a better sporting experience in town. 
Take Part in Fun Action-Packed Sports
For those who may want in on the action, The Plex offers many indoor winter sports for all ages, including flag football, soccer, softball, and golf.
Fort Wayne Sport and Social club also offer winter sporting activities, including dodge ball. Fort Wayne even has its own curling club with ongoing leagues and opportunities throughout the winter. Check out www.fortwaynecurling.com for more information.
With all of the sporting events and activities available in Fort Wayne, you are sure to have an action pack getaway. Help us cheer on the hometown favorites or take part in the action!