I was listening to the words of "The Star-Spangled Banner" the other day and thought, "Man, why has there never been a big-budget movie about the Battle of Baltimore? That would be awesome!" The battle – specifically, the failure by the British to take Fort McHenry – was a major American victory in the War of 1812 and inspired Francis Scott Key to write what would become the national anthem of the United States. This is a time period that has been mostly overlooked in popular culture, the recent exceptions of
Assassin's Creed III
, a video game, and AMC's series,
Turn
, aside. I mention this because Fort Wayne, Indiana, has a festival that celebrates this general time period (the late 18
th
/early 19
th
centuries) and one of its most famous figures, Johnny Appleseed. Always held over the third weekend in September, this year's festival will be Saturday and Sunday, September 19 and 20, 2014. When I've written about the festival in the
past
, I've focused on the food (which, don't get me wrong, is delicious) or the crafts. But the whole reason we have the festival in the first place is to celebrate Johnny Appleseed and the time period in which he lived. As you walk around Johnny Appleseed Park, you'll see drum and fife corps marching back and forth and other soldiers patrolling the grounds. You'll see pioneers cooking and crafting, singing and dancing. You'll get to hear stories told by frontiersmen and traveling snake-oil salesmen. You'll get to experience life the way it used to be when Fort Wayne's streets and skyscrapers were forests and fields.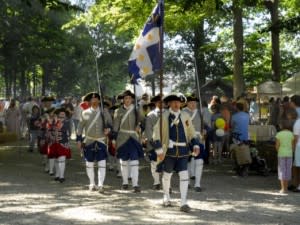 I've said before that the Johnny Appleseed Festival is my favorite festival of the year. I'm sure I'm not the only one – I run into more people I know at the Festival than anywhere else at any other time of year. Maybe I'll run into you, and we can travel back in time together. For more information, click
here
. I'll see you there!