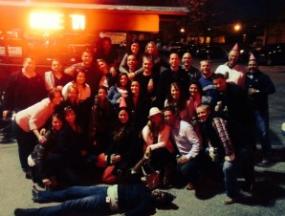 A perfect summer night, Beer and Wine, and a great downtown adventure equal a one of a kind Fort Wayne experience - Pedal City. It's official, this new downtown craze is perfect for a birthday night out with friends, and so our adventure began! For two hours our 30 party goers rode down the streets of downtown in complete laughter and excitement over the thrill of this crazy bike, and our ridiculous party hats of course. Each bike comes with a designated driver that gives you the option to create your own route. Considering there is a little work involved, we decided to take a couple stops, so why not the Brass Rail? Although most of our group had experienced the local bar, it felt like a new trip for everyone, c'mon it's not every day you pedal a 15 seat bike with friends.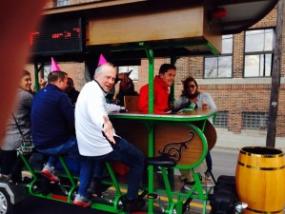 Off we went to our next stop, a downtown favorite hot spot, JK O'Donnell's, what better place to enjoy good beer and friends! Two bikes and thirty adults later, we were all in cahoots to hangout on Wayne Street and take in the downtown atmosphere. Let's recap, good friends, a beautiful downtown night, and a mobile bar, need I say more?
We ended our journey where we began the birthday shenanigans, Club Soda, and of course with a memorable picture. It's safe to say, our trip was a success, and all thirty peddlers would recommend Pedal City to anyone searching for a unique way to enjoy downtown and company with friends.  But don't forget the fun doesn't have to end with Pedal City; there is always plenty of fun to be had in downtown Fort Wayne!