Update: For information on this year's event, visit our Festivals page.
I consider myself the ultimate food enthusiast. That's why Taste of the Arts is one of my favorite Fort Wayne events. It brings art, entertainment and food to downtown Fort Wayne for one jam-packed day. On Saturday, August 25, the Arts United Center and Main street come alive with music, street performers, theater, dance, art, and over 30 local restaurant vendors.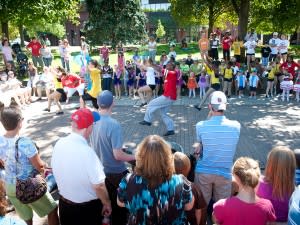 Now in its 4th year, Taste of the Arts will feature more indoor stages than in the past and a stage dedicated to electronic music in the Fort Wayne Museum of Art sculpture garden. This year also marks the first year that Fort Wayne's award-winning Voices of Unity choir will provide entertainment to attendees. There are also a handful of new restaurants participating this year, including Downtown Deli, Honey on the Table, and Higher Grounds STAR. Mad Anthony Brewing Company, JK O'Donnell's, and Baker Street will be on hand serving beer and wine. For a full list of vendors, check out the vendor list. Taste of the Arts will also feature "Busker Square," sponsored by the Downtown Improvement District. Did you miss BuskerFest earlier this year? Here's your chance to see what you missed. Acts will run throughout the day. And here's where the art comes in: the Art Marketplace will feature a wide range of paintings, photos, pottery, jewelry and more, all from local and regional artists. The best part? Taste of the Arts is a fundraiser. So while you are enjoying yourself, you are doing so for a good cause: Arts United, which provides essential services and financial support to the regional arts community by raising over a million dollars each year and granting it back to the community.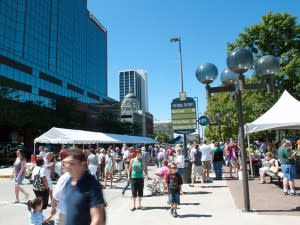 Wait, this is the best part: Admission is FREE! Tickets are available for food and beverages for $1 each. Most items range from 1-4 tickets. For more information, visit the Ticket page. No, wait, this is the best part: Dessert! The party after the Taste will feature a great line up of bands, along with more food and beverages! For a full schedule, visit Taste of the Arts' website.