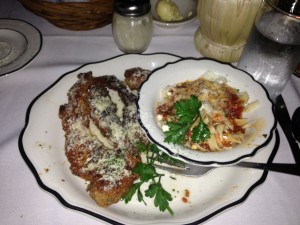 One of our family's favorite type of cuisine is Italian, and next to having it at home, nothing beats the Italian Connection. If you're looking for a big-box, corporate-owned Italian-American restaurant with a menu easily found anywhere else, then keep looking. The Italian Connection is a special, one-of-a-kind dining experience that is cherished and loved by many. As you enter the small house on Taylor Street, you're greeted by soft lighting and intimate tables, all surrounded by walls lined with shelves full of wine bottles (most of them signed by previous patrons). Make sure you plan ahead, because if you don't have a reservation then forget it until the next weekend…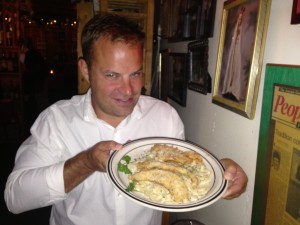 The atmosphere is unique and homey, filled with Catholic icons like rosaries and crosses, in addition to countless framed family photos on the walls. Every time we come here, my husband and I always order a wicker basket of the house Chianti, followed by the meatball appetizer. Perfect portions and attention to quality are obvious each time we come here.  Owner Alex Fiato can usually be found in the kitchen, rolling out fresh pasta by hand and serving the plates himself. We always feel so at home, as though we are dining in Alex's own personal house.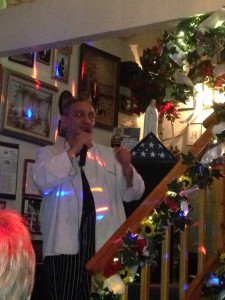 As mentioned before, don't expect an extensive menu with thousands of options. The idea here is that they stick with what they know, what works, and what is simply delicious. Reasonably-sized plates of food can actually be finished by one person, again reinforcing the idea that you're a guest in a friend's dining room. After the meatballs, we have salad with the house-made dressing and freshly baked bread with butter. I always choose the chicken parmesan, crispy chicken tenders served with pasta marinara—a favorite of all three kids too—and my husband orders fettuccine alfredo with chicken. We usually have some more Chianti for "dessert" but my daughter gets the Spumoni ice cream, and we can normally be talked into cheesecake with strawberry topping. If you're looking for someplace special to celebrate an anniversary, birthday, or just want something cozy and unlike any other dining experience, try the Italian Connection. Its decades of success and loyal patronage, combined with unbeatable food and family-centered values (oh, and live karaoke on Friday nights performed by none other than owner Fiato himself…) are all the keys to making this place as special as it is. The Italian Connection is located at 2725 Taylor St. Fort Wayne, IN 46802. To make a reservation, or find our more information, call (260) 432-9702. the Italian Connection is open Wednesday-Saturday for dinner only.