Taste of the Arts is almost upon us! The event takes place over two days, starting on Friday, August 26 with the Beat Beethoven four-mile run/walk. Music commences from 6-10 PM. and continues on Saturday, August 27 from 11 AM-7 PM. All stationary events will occur on Fort Wayne's Arts Campus (300 E. Main Street).
As a new Fort Wayner (I moved here last September), this will be my first time experiencing Taste of the Arts both as a visitor and as a performer. Heartland Sings will be on the main stage at noon on Saturday doing lots of fun jazz, pop, and A Cappella numbers. We are one of nearly fifty performing arts groups to be featured at the event. Dancers will be featured in addition to musicians, and there will also be plenty of delicious food and fun activities on hand.
I decided to catch up with a group that has performed at the festival before, Fort Wayne Taiko, for some insight. I've had the pleasure of hearing Fort Wayne Taiko before at the Fort Wayne Sister Cities Gala. This vivacious group plays taiko, huge traditional Japanese drums. Allison Ballard, the director of the group, was kind enough to answer a few questions for me.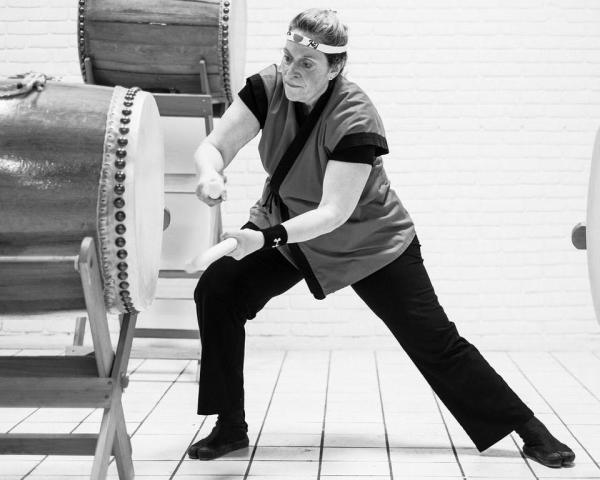 How many times have you performed at Taste of the Arts? I'm not sure how many years we've done this event...probably three to five times.
What is Taste of the Arts like? Fun. Hot. It's our end-of-summer community festival event.  It's always a joy to perform for our community at festival events that bring together diverse groups. 
Tell us a little about Fort Wayne Taiko. Fort Wayne Taiko is a drumming and movement ensemble based on Japanese tradition, the only one of its kind in Indiana. The group is a part of the Fort Wayne Dance Collective and has offered classes, workshops, and performances since 2000. It has performed both internationally and domestically, in locations including Hiroshima, Japan and Los Angeles, California.
Catch Heartland Sings, Fort Wayne Taiko, and dozens more talented musical acts at Taste of the Arts! We can't wait to see you there.