I recently performed at Summer Nights at the Embassy (that's me and my group, Heartland Sings, in the main blog photo) and I was struck by just how romantic the event was. Between the music, the majestic interior of the ballroom, and the breathtaking view from the roof (pictured below--the sunset was divine), there was no doubt that Summer Nights at the Embassy would make an amazing part of a couple's getaway. The wonderful food from local restaurants and a nice selection of beer, wine, and rosé slushie (yes, you read that right!) adds the perfect touch.
A Romantic Evening at Summer Nights at the Embassy
Interested in making Summer Nights at the Embassy, which is held every Wednesday evening between May 24 and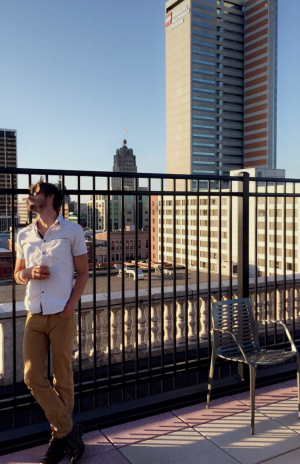 August 30, part of your couple's getaway? Here are my top four picks for the most romantic events left in the series.
August 2: Salsa Dancing
Pack your dancing shoes and prepare to impress your darling with your fancy footwork! Salsa Loca instructors give on-the-spot lessons to the musical stylings of Melisa's Latin Beat. Refresh yourself with some south-of-the-border eats provided by Salud Tapas N Tequila. I hear their tacos are delicioso!
August 9: Alicia Pyle Quartet and Pyroscope
The Alicia Pyle Quartet performs all over Fort Wayne, much to the delight of listeners. Heartland Sings (the vocal arts company where I work) has actually performed with her several times, and APQ's bassist, Brad Kuhns, is also in the Heartland Sings Jazz Combo!
You won't be disappointed by this musical powerhouse, and your eyes will be entertained by Pyroscope's juggling and light hooping (sans the usual flames, thanks to a little thing called the fire code). Food at this event will be provided by Bravas, a local restaurant with truly impressive patatas bravas (fried cubed potatoes covered in special sauce).
August 23: Mikautadze Dance Theatre
Love dancing but don't feel up to salsa night? Come see Makautazde Dance Theatre, a local professional group that specializes in contemporary dance, instead. And if you're hungry, take your pick of local eateries: the Embassy has teamed up with Waiter On the Way, a food delivery service that can bring you munchies from any number of local restaurants. Your date will be delighted!
August 30: Soul Night Featuring Fatima Washington, Jeanna Pearson & Notes
Nothing says "romance" like a little soul music! You and your sweetheart can enjoy soul music both new and old with Fatima Washington, Jeanna Pearson & Notes on August 30, along with scrumptious offerings from Club Soda. Come hungry--Club Soda's menu features favorites like smoked gouda dip and calamari, and they're sure to deliver at Summer Nights at the Embassy.