For most people, hearing "Shakespeare" brings flashbacks to their high school nightmares. Shakespearemachine challenges that reaction through innovative, experimental productions.
Shakespearmachine
Shakespearmachine, founded in 2015 in Fort Wayne, Indiana, is a theatre company dedicated to exploring the complete works of William Shakespeare through the use of masks and unusual audience-performer relationships. This type of performance is known as physical theatre, which rather than simply reflecting the action on stage as presented in the text, you "attempt to put into physical terms the subterranean undercurrents of the text. So, in that case, the stage is more poetic. It doesn't always reflect a simple reality," explained Nick Tash, co-founder of Shakespearemachine.
Halee Shutt, co-founder added, "It is our theory that taking a more physical theatre approach to his work helps find that balance, making the material more engaging for performers and audience members alike." 
Shakespearemachine Productions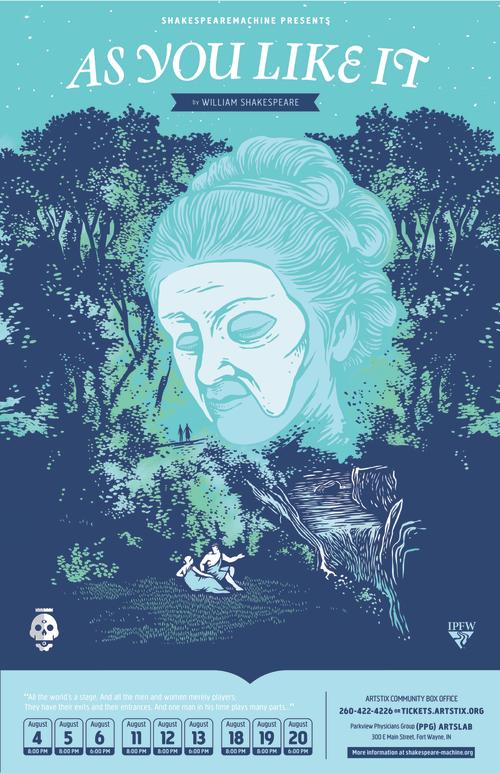 Shakespearemachine has completed two productions, and they are getting ready to perform their next, "As You Like It," in August. "As You Like It" is a Shakespearean comedy where ladies disguise themselves as shepherds, young men and women fall in and out of love, and all roles are reversed–a world where anything is possible in the topsy turvy world of the Forest of Arden, where music reigns and love is in the air.
Shakespearemachine "As You Like It" Performances  
August 4 - 8 PM
August 5 - 8 PM
August 6 - 6 PM
August 11 - 8 PM
August 12 - 8 PM
August 13 - 6 PM
August 18 - 8 PM
August 19 - 8 PM
August 20 - 6 PM
Tickets to any of these shows can be purchased online at artstix.org or by calling (260) 422-4226. 
Shakespearemachine performs at the Parkview Physicians Group ArtsLab, a black box style theatre that is great for intimate performances. The ArtsLab is located at the Auer Center for Arts and Culture, 300 E Main Street, Fort Wayne, IN 46802 (on the downtown Arts Campus). There is a surface parking lot adjacent to the building, and street parking in downtown Fort Wayne is free on evenings and weekends. 
There are also plenty of other arts experiences you can group this one with while visiting! Check out Fort Wayne's robust arts and culture scene, and see other summer fun things you can do in the Fort.