If you eat, sleep and breath music you'll fall in love with Fort Wayne.  There is plenty to see, hear and do music-wise in this town. Here are a few suggestions to add your to your itinerary: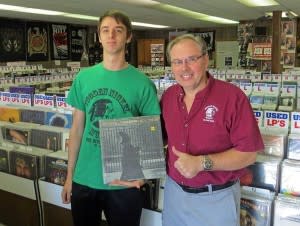 Check out our record stories: Neat Neat Neat Records & Music caters to the music savvy consumer.   Open since March 1, 2011, the record store carries a variety of albums and genres-"hard to find stuff," as owner Morrison Agen puts it. Today, Neat Neat Neat Records serves customers with an eclectic mix of 6,000 + records and 2,000 45s in a historic building on the south side of Fort Wayne.  Morrison buys and sells music, everything from jazz, to blues to country to punk. You can't go wrong with Wooden Nickel Music either. What is unique about this local enterprise is that each location boasts something different.  For example, the North Clinton store is the place to go for classic rock, new rock, alternative, country, and  some soundtracks, jazz, rap, hip-hop, R&B and soul.  The North Anthony store is the place for vinyl albums. Last, the store in the Village of Time Corners boasts a good selection of vinyl and mainstream CDs. Check out Sweetwater Sound.  Prepare to be "wow'ed." Sweetwater Sound is the mecca for all things audio related. Sweetwater began business 33 years ago in Fort Wayne, and is the country's most respected dealer in high-technology equipment for musicians, recording studios, and broadcasters – from microphones and digital recording systems to electric guitars to electronic keyboards and electronic drums. The company caters to artists and recording professionals all over the country.  In addition to boosting some awesome gear, the building itself is impressive.  Think modern and eco-friendly. Stay for lunch at their on-site cafeteria. Catch a live show. The Brass Rail, located at 1121 Broadway, is a hot spot for local and national musical entertainment-of all musical genres-from metal, to punk, to bluegrass–all under one roof! Be sure to order their signature drink–a PBR!

Here's to a rockin' weekend in the Fort!