Music and food: what better pairing is there? If you're planning a getaway to the great city of Fort Wayne, Indiana, it likely includes both tasty eats and catchy beats.
Plan the ultimate music-filled Fort Wayne getaway by picking a venue and nearby restaurant for each evening of your stay. I've sung at all of these venues and eaten at all of the restaurants, and I can guarantee each night will be one to remember.
Fort Wayne, Indiana Music-Filled Getaway
Copper Spoon + The Embassy
Copper Spoon (formerly Wine Down) has self-serve wines on tap. Using a card, patrons can pour themselves small, medium, or large glasses of dozens of different wines. Coupled with an ever-rotating menu of gourmet appetizers and entrees, you really can't go wrong. Just make sure to make a reservation if you're headed here before a show!
The Embassy is just down the street (about a block away) from Copper Spoon. This spectacular theatre was built in 1928 and has been hosting orchestral performances, touring Broadway musicals, operas, famous bands, and a plethora of other musical acts ever since.
No matter what genre you're a fan of, there is something for you on the schedule.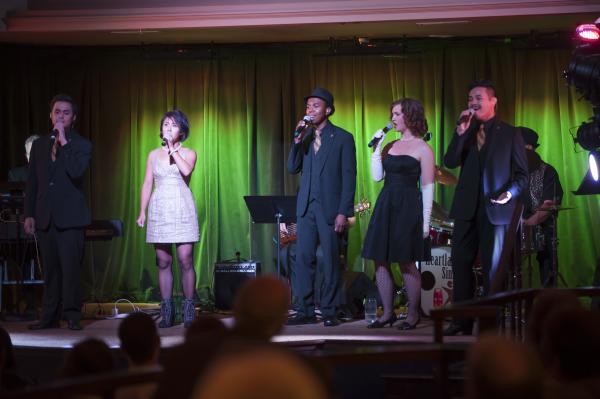 Trubble Brewing Company + The Philmore
Trubble Brewing Company serves great--you guessed it--beer! This quirky brewery also serves delicious bar fare, like burgers and fries. It's a small space, so be sure to get there early or call ahead. And if you don't get enough in the evening, come back for brunch the next morning--you might even see me there.
The Philmore, which is only about a block away from Trubble Brewing, was built in 1923 (apparently building theaters was popular in the 1920s) and is now a venue for a largely local crowd of musicians and events. Come here for a relaxed evening of music, and perhaps a few more drinks (there is a bar). I've sung several concerts at the Philmore with Heartland Sings, and I've thoroughly enjoyed the stylish atmosphere and generous, but not overwhelming, size.
Casa Ristorante Italiano + Allen County War Memorial Coliseum
Casa Ristorante Italiano is a local staple. Fort Wayners love it for the homey atmosphere and hearty, homestyle Italian cooking. I can vouch for their delicious salads and truly spectacular chocolate cake.
Right across the street from Casa's Parnell St. location, you'll find the sprawling Allen County War Memorial Coliseum. If a big celebrity singer is coming to town, they will likely be performing at the Memorial Coliseum. I sang with Barry Manilow at the Memorial Coliseum a few years back, and it is an enormous stage with a lot of energy!
Check the schedule and see if your favorite band or singer is coming here soon.
Note: This post was originally published in 2018 and has been updated.