So, it's a Monday, and you're hanging out in Fort Wayne, Indiana wondering, "What to do?  What to do?"
No problem.With a little insight, you can check out all sorts of cool things for a great day away.
Things to Do in Fort Wayne, Indiana on a Monday
Family Fun in Fort Wayne
If you have kids in tow, take them to the famous Fort Wayne Children's Zoo while the summer lasts. You'll spend all day enjoying an assortment of wildlife from across the globe, including Africa, Indonesia and Australia. Fort Wayne also has the rare honor of having one of the few zoos in the U.S. to host Tasmanian devils.
The 2018 season runs through October 7. If you miss out on the regular dates, you still have the special Wild Zoo Halloween events on the weekends from October 12 - 28.
I don't think anybody can go wrong with a little mini-golfing. You can wear your kids out, or yourself in the process, by hitting the greens at Putt-Putt Fun Center, 4530 Speedway Drive, across from Glenbrook Square Mall. The place also has an attached arcade and a go-kart track next door.
For those with a need for speed, more go-karting is around the corner. You got Fast Track Racing, 605 W. Coliseum Blvd.
If you have an adventurous spirit, and you don't mind putting your children to shame, take them to one of the city's laser tag facilities. Lazer X, 244 Fernhill Ave., behind Glenbrook Square Mall, UltraZone, 1104 W. Coliseum Blvd., and Combat Ops Arena, 702 Ley Rd, all have Monday hours.
For the family that has many interests, Fort Wayne is home to two entertainment centers that are filled with arcades, bowling lanes, mini golf, and much more! Crazy Pinz Entertainment Center, 1414 Northland Blvd., and Georgetown Entertainment Center, 6770 E. State Blvd.
Outdoorsy Activities
You and/or the family can chill at one of the 86 parks and 56 playgrounds the city maintains. They come in all sizes and dimensions. The largest and most popular include Franke Park, Foster Park, Lakeside Park, Shoaff Park and McMillen Park. Coincidentally – or, maybe not – those parks are also home to city-run golf courses.
The golf doesn't end there. Trust me, we love our golf in Fort Wayne. Several public courses are on the map. They include Autumn Ridge, 11420 Auburn Road; Brookwood, 10304 Bluffton Road; Canterbury Green at the Canterbury Green apartment complex off Saint Joe Road; Chestnut Hills, 11502 Illinois Road; Cherry Hill, 6615 Wheelock Road; Colonial Oaks, 8218 Huguenard Road; Lakeside Golf Course, 746 N. Coliseum Blvd.; and Riverbend Golf Course, 7207 Saint Joe Road.
Many of Fort Wayne's parks are connected by an extensive walking and biking trail system that winds through more than 100 miles of Fort Wayne and Allen County, including the Rivergreenway, which runs along the city's three rivers. If you'd rather be on the river, check out Fort Wayne Outfitters, 1004 Cass Street, to reserve a kayak or canoe rental.  The business also rents out bikes, if that's your flavor.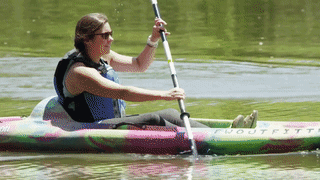 One of my personal favorite places, pretty much any day of the week, is Fox Island County Park on Yohne Road.  The park encompasses 605 acres, with 270 of them designated as a state nature preserve. With fall around the corner, you're about to see a beautiful palate of colors there when the leaves change.
Indoor Activities
Maybe the weather's bad, or maybe you want to broaden your experiences, or maybe you just like staying indoors. That's all good. Fort Wayne has some essentials to look into.
For your reading pleasure, the Allen County Public Library system runs 14 libraries in and outside the Fort Wayne city limits. The main facility downtown has a huge catalog of books and other materials, a famous genealogy center, an art gallery, and an attached Dunkin' Donuts coffee shop.
Of course, you need a library card to check out materials. If you're on the go and can't get a card, we have some cool local bookstores. There's Hyde Bros. Booksellers, 1428 Wells Street, and the Bookmark, 3420 N. Anthony Blvd.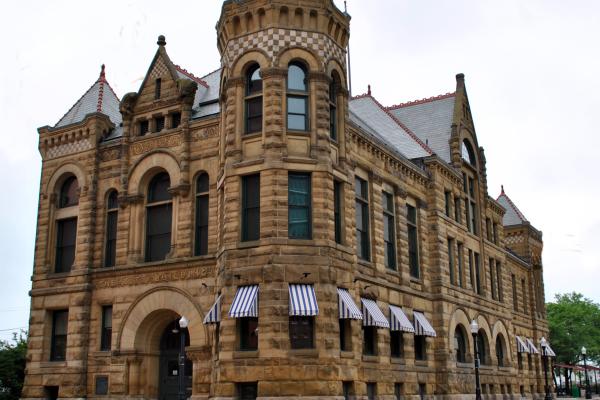 Fort Wayne has a neat little collection of museums and attractions to tour during the week. The History Center, 302 E. Berry Street, houses a comprehensive collection of Fort Wayne's past and present in a building that once served as City Hall. The Fort Wayne Firefighters' Museum, 226 W. Washington Blvd. provides a look at, you guessed it, the history of firefighting in the city.
Maybe Not on a Monday
Several of the city's most popular attractions are not open on Mondays. The Botanical Conservatory, 1100 S. Calhoun Street, the Fort Wayne Museum of Art, 311 E. Main Street are open every day except Mondays, and  Science Central, 1950 N. Clinton Street.
Science Central is a hands-on play-factory that brings out the mad scientist in children of all ages by teaching them various scientific principles through fun, interactive exhibits and activities. You can hardly miss it.  Look for the overhauled former power plant with bright, multicolored smokestacks and a giant triceratops skeleton just north of Downtown.
If you need more ideas for some fun activities on a Monday, make a stop in at the Fort Wayne Visitors Center!