I am a professional musician--I have a master's degree in vocal performance--and yet, I've never know what a "pops concert" is...until now. Thanks to a 1984 New York Times article entitled, "'Pops" vs. 'Pop': A Popular Linguistic Ambiguity," I am now in the know. Here's author Will Crutchfield's definition: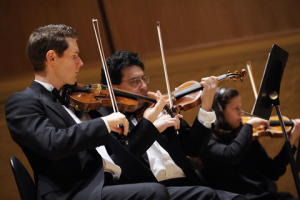 "'Pops,'' though also derived from ''popular,'' is more narrowly defined [than "pop"]. It refers to what we call ''light classics'' and to popular music arranged for the standard ''classical'' symphony orchestra - the ''1812'' overture, Beatles medleys, Strauss waltzes, and Cole Porter for swooning strings."
Holiday Pops in Fort Wayne
While I was surprised to find that Strauss waltzes fall into the pops category, that definition helps to explain the offerings at the Fort Wayne Philharmonic's Holiday Pops concert. The Philharmonic Website explains the concert thusly:
"Fort Wayne's favorite holiday tradition is back, and better than ever. Broadway personalities join the Fort Wayne Philharmonic, Chorus, and special guests in a program of the traditional and contemporary holiday favorites you know and love. The "Hallelujah" Chorus, a Christmas carol sing-a-long, and dancing Santas will sparkle in the majestic Embassy Theatre, decorated in holiday splendor especially for the occasion. Get into the holiday spirit and deliver fun for your entire family."
I checked with a contact at the Fort Wayne Philharmonic and it turns out that even the players don't yet know what's on the 2016 Holiday Pops program! However, the mixture of classical and contemporary holiday favorites promises musical goodies for everyone--even those who don't usually go to hear orchestras. And the mysterious reference to "Broadway personalities" is tantalizing for anyone who enjoys good vocal music.
When Is It?
Catch the Fort Wayne Phil's Holiday Pops Concert on the following dates and times (get your tickets here). All performances are at the gorgeous Embassy Theatre in downtown Fort Wayne.
December 9, 2016, at 7:30 pm
December 10, 2016, at 2:00 pm
December 10, 2016, at 7:30 pm
December 17, 2016, at 2:00 pm
December 17, 2016, at 7:30 pm